Vegan White Chocolate Truffles
Vegan White Chocolate Truffles
Creamy, perfectly sweet, vegan white chocolate truffles made with 5 ingredients! Low sugar, easy to make, and entirely plant-based!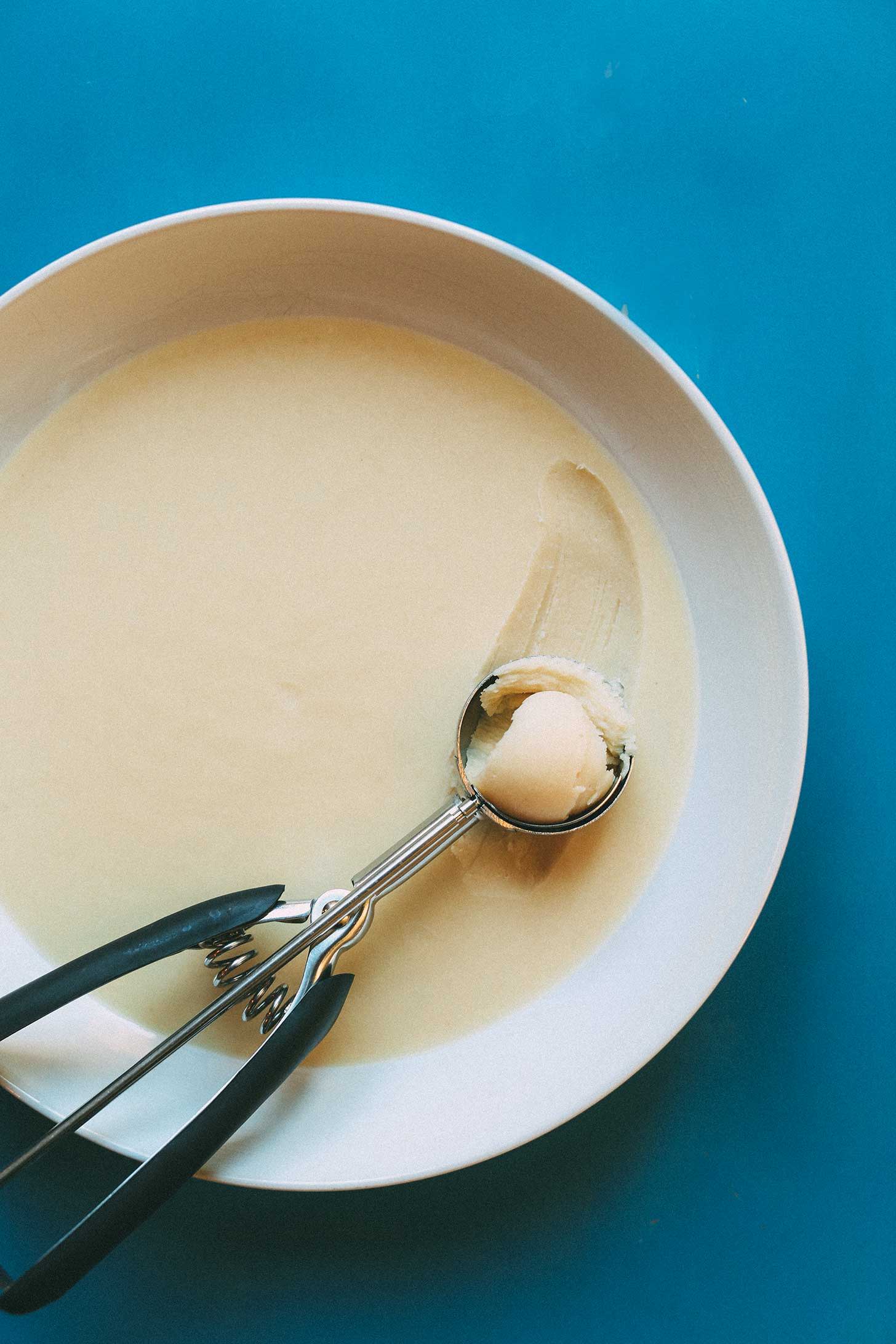 This recipe has been a long time coming because white chocolate can be quite difficult to make vegan.
But, with a little inventiveness and lots of testing, I cracked the code! Originally, I was testing this recipe with a base of cocoa butter, coconut cream, and cornstarch, but it turned out either like pudding or rock hard and crumbly. Back to the drawing board. In the midst of all of this, I was snacking on macadamia nuts – serendipitous, eh? – and got the idea to use them as a base with cocoa butter! Now, we're making progress. The method is easy, too: Blend macadamia nuts and coconut into a butter, add remaining ingredients, and mix. Then refrigerate and roll into truffles!
TRUFFLES
1/2

 

cup

 

raw macadamia nuts
1 1/2

 

cups

 

desiccated (finely shredded) unsweetened coconut

1/4

 

cup

 

finely chopped cocoa butter

 

(melted)

2-4

 

Tbsp

 

organic powdered sugar

(or sub stevia to taste*)

1/2

 

tsp

 

vanilla extract

1

 

pinch

 

sea salt

 (optional)
FOR ROLLING
3/4

 

cup

 

desiccated (finely shredded) unsweetened coconut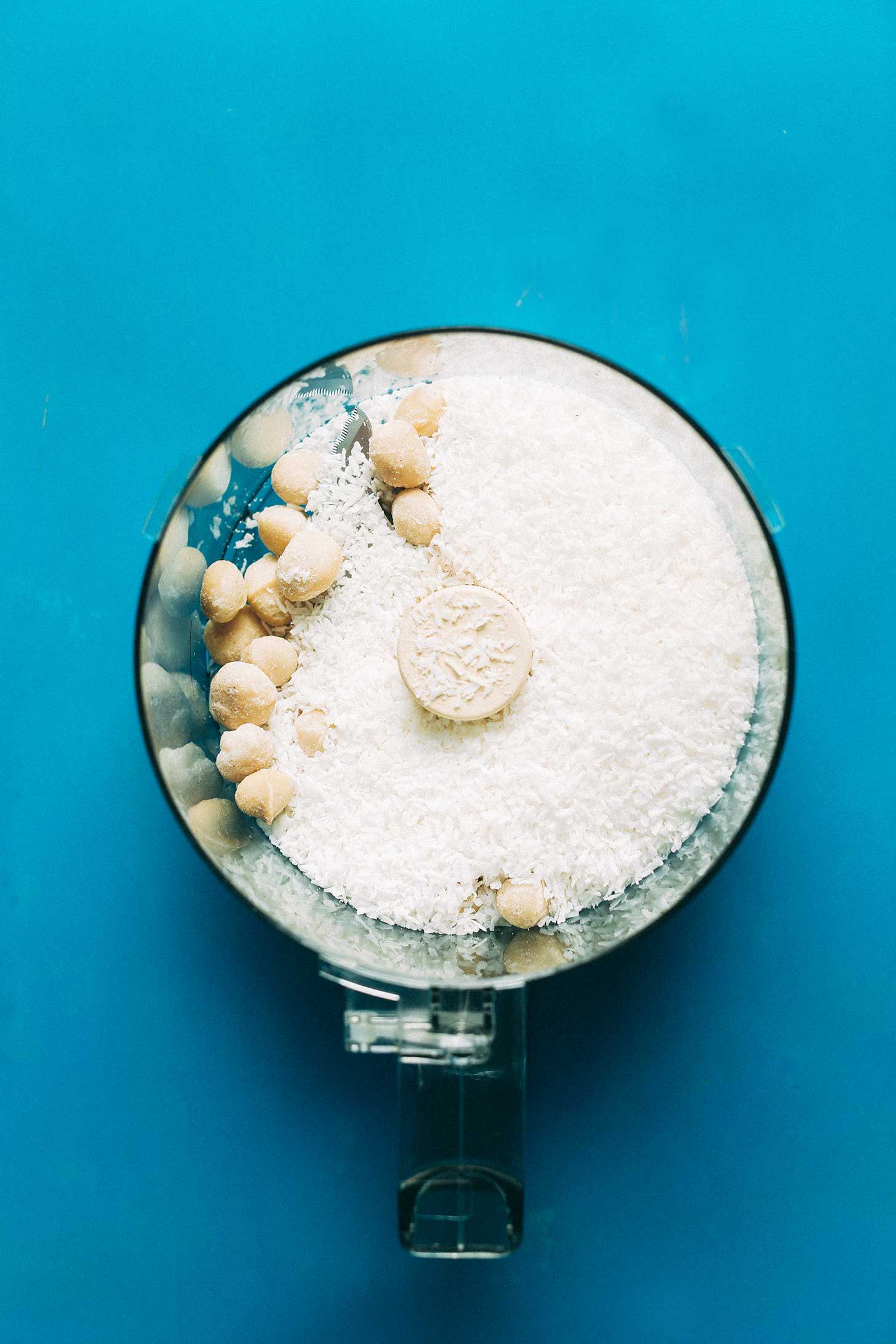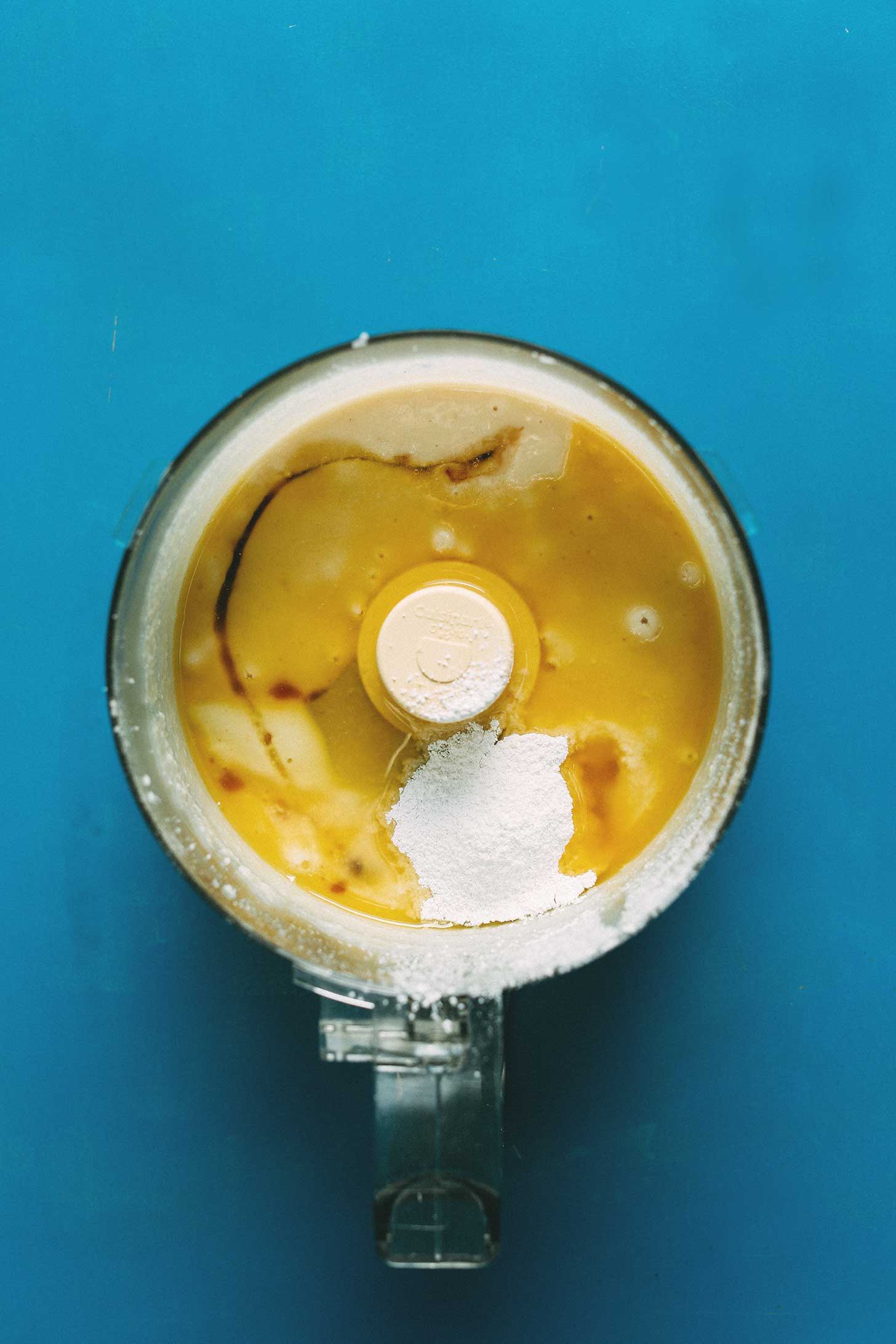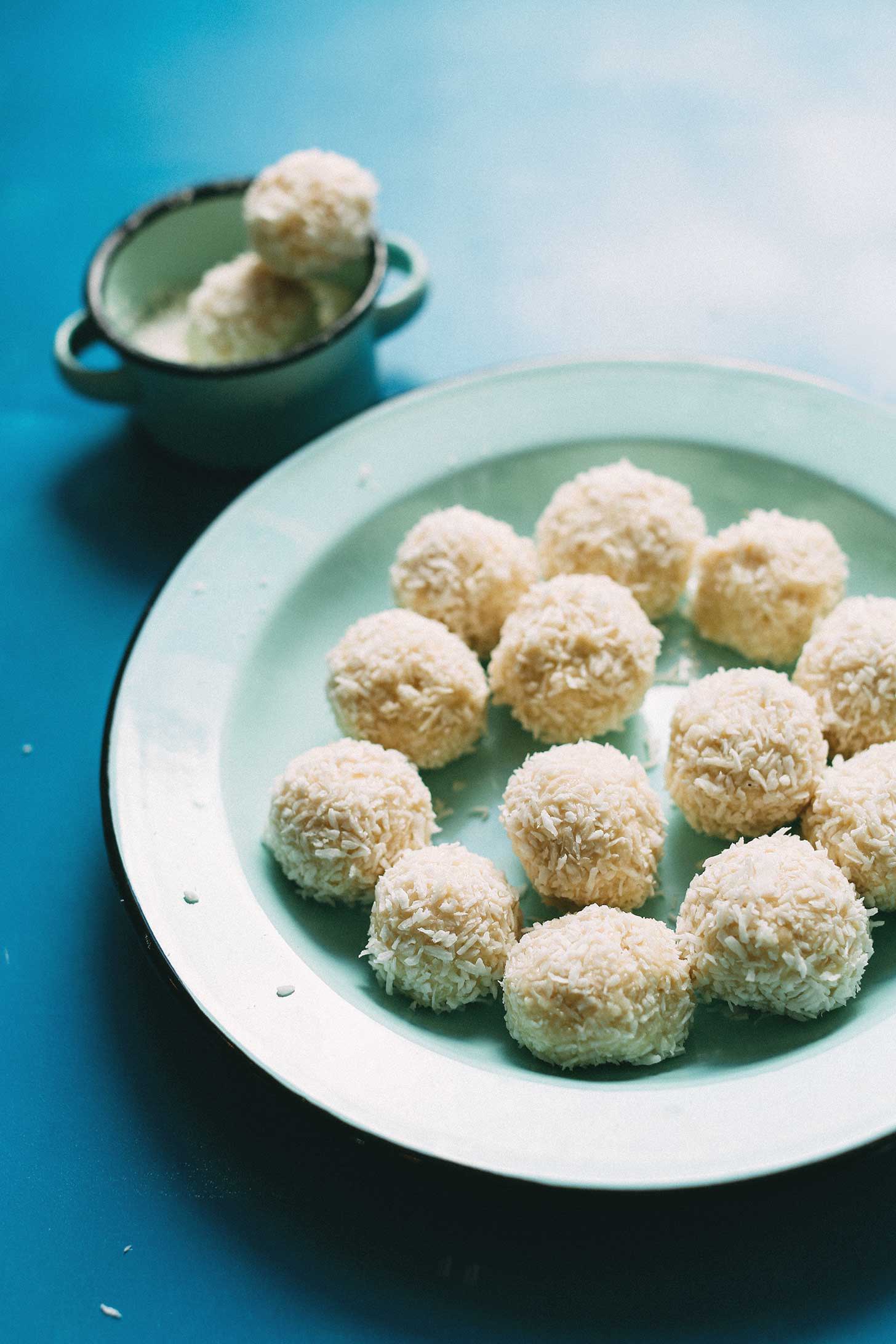 Add macadamia nuts and desiccated coconut (1 1/2 cups as original recipe is written // adjust if altering batch size) to a

food processor

and mix until a creamy paste is formed, scraping down sides as needed.

Add melted cocoa butter, powdered sugar, vanilla, and sea salt (optional) and mix once more to combine (see photo). Taste and adjust flavor as needed, adding more salt for saltiness, vanilla for vanilla flavor, or powdered sugar for sweetness.

Transfer the mixture to a shallow plate or a bowl and place in the refrigerator to chill for about 1 hour or until firm to the touch (especially in the center). In the meantime, add 3/4 cup (amount as original recipe is written // adjust if altering batch size) desiccated coconut to a small dish (for rolling). Set aside.

Remove mixture from refrigerator and use a Tablespoon or small cookie scoop (

I like this one

) to scoop out rounded Tablespoon amounts. Either leave as a "disc" shape or gently roll into balls. If you roll for too long, they can start to melt, so don't fuss too much with the shape.

Once formed, add to the desiccated coconut dish and roll to coat. Set on a serving plate. Repeat until all truffles are rolled - about 10.

Set back in refrigerator for 5-10 minutes until mostly firm/set. Store leftovers at room temperature up to 3-4 days, in the refrigerator for 1 week, or in the freezer for 1 month. Best enjoyed at room temperature.
---
I used organic powdered sugar in this recipe as opposed to a liquid sweetener (i.e. maple syrup) to help with a creamy, light texture. If trying to cut back on sugar, I recommend subbing stevia extract to taste (start with 1/4 tsp).
This has become a go to recipe for me as a former white chocolate lover who now avoids dairy. So yummy! I sub cashews for the macadamias, use 3 drops liquid stevia to sweeten, omit the vanilla (unless I have an alcohol free vanilla or vanilla powder on hand, I don't like the taste of vanilla w alcohol in uncooked treats) and add the pinch of salt. I love that they have limited hands on time. The texture and taste are so amazing. My kids love them too- great way to get some calories into them on active or growth spurt days!
- Miami Food Network -
These would make the perfect vegan-friendly treats for special occasions like Valentine's Day and beyond! They would also make a lovely gift and are the perfect dessert to make, pop in the fridge or freezer, and enjoy throughout the week!