Vegan Sushi Cauliflower Rice
Vegan Sushi Cauliflower Rice
If you've ever wanted to make raw vegan sushi rolls, then this recipe is for you!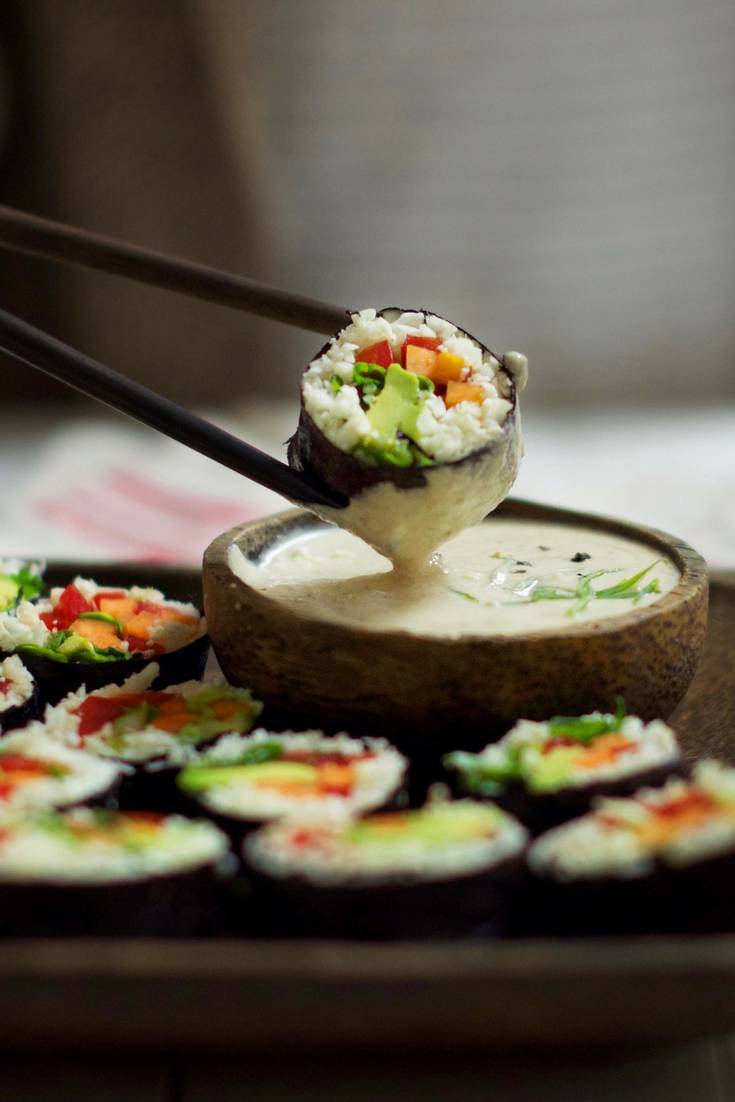 This Cauliflower Rice Sushi recipe is so delicious and so healthy! If you're worried about making homemade sushi, this recipe shows a step by step process to make veg sushi at home. Looking to eat a healthier diet? You'll love this Veggie Sushi no rice recipe. Served with a creamy peanut butter sauce, low carb sushi rolls are beautiful and delicious!
4

 

sheets of nori

2

 

cups

 

cauliflower rice

1

 

red bell pepper

 

sliced thinly

1

 

avocado

 

peeled and sliced

1

 

cup

 

red cabbage

 

sliced thinly

2

 

green onions

 

sliced thinly lengthwise

2

 

cups

 

field greens

 

, chopped
Peanut Dipping Sauce
¼

 

cup

 

peanut butter

1

teaspoon

 

stevia

2

 

teaspoons

 tamari

1

 

teaspoon

 

Sriracha

 

based on your hotness preference

2

 

teaspoons

 

chopped peanuts for topping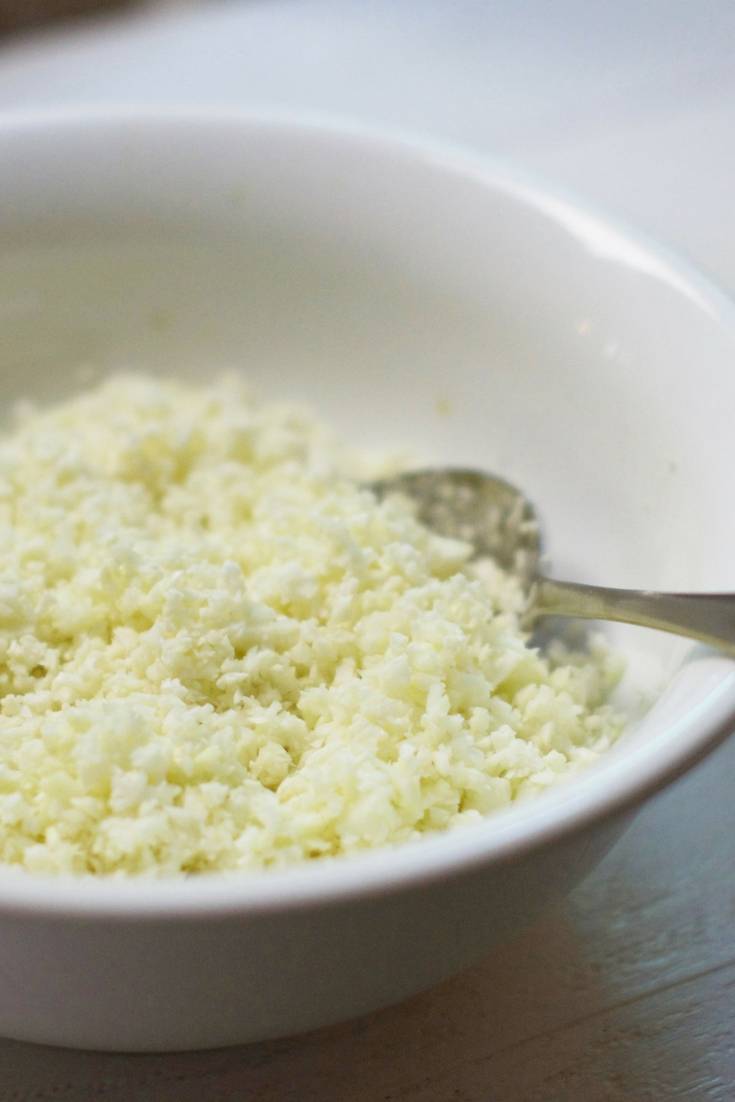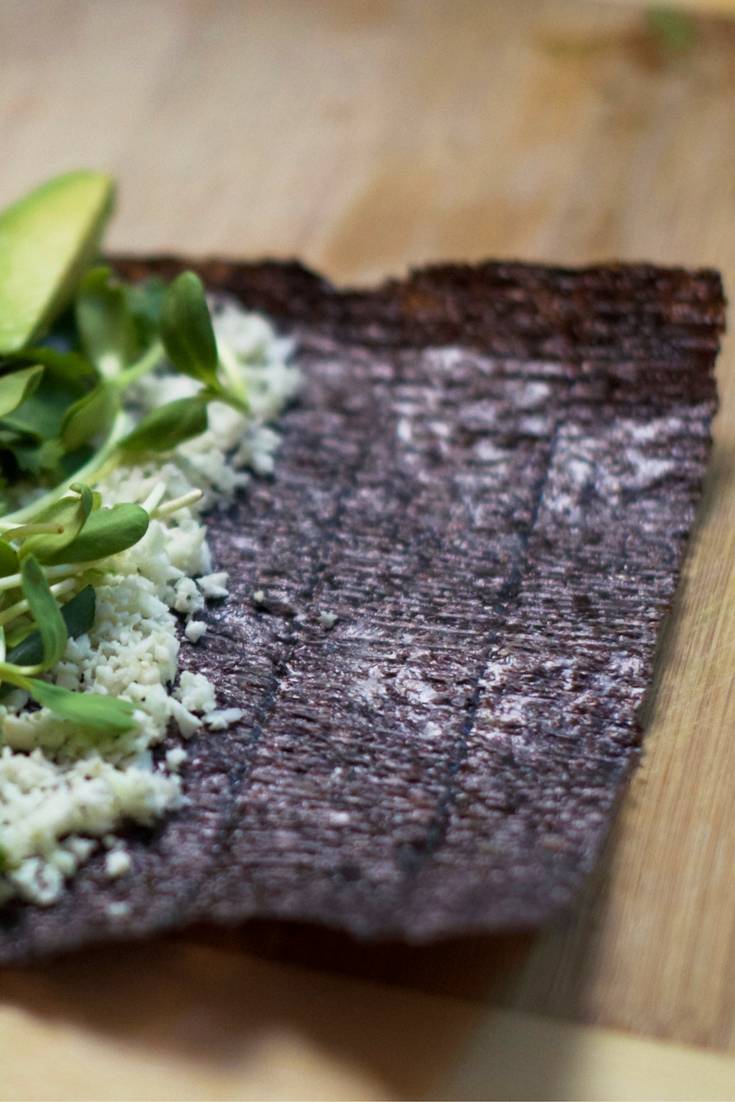 Place one nori sheet on a bamboo roller. Top about half of it with a thin layer of the cauliflower rice. Top this with thin slivers of the red bell pepper, avocado slices, red cabbage slivers, green onion slivers, and some of the field greens.

Use the bamboo roller to roll the nori, using your fingers to press down on the nori sheet as it rolls up. Roll it tightly to the end. Allow the roll to sit for a minute or two, seem side down.

Make the dipping sauce by combining the peanut butter, agave, Bragg (or soy sauce), and sriracha. Stir to combine. Add 1 – 3 teaspoons of water to get to a nice dipping consistency. Sprinkle the top with chopped peanuts.

Slice the roll into 5 – 6 equally sized bites.

Serve the sushi bites with the sauce.
---
One trick I learned is to let the sushi roll sit for a moment before slicing. That way the moisture from the rice helps to soften up the nori a bit, sealing the roll.
One of my most loved sushi variations. Made it many, many times already even though I don't like cauliflower in other dishes at all! I like how you filled the rolls with those rainbow colours 
- Miami Food Network -
The real key to success is a tasty sauce to dip your sushi in. I make a super simple Spicy Peanut Sauce made with peanut butter, tamari (a gluten-free soy sauce), and chopped peanuts. Dip vegan sushi in plain soy sauce or soy sauce combined with sriracha. There's so many awesome options for dipping sauces!