Vegan Chocolate Chip Cookies
Vegan Chocolate Chip Cookies
These chewy vegan chocolate chip cookies are easy to make and pair perfectly with a cold glass of non-dairy milk!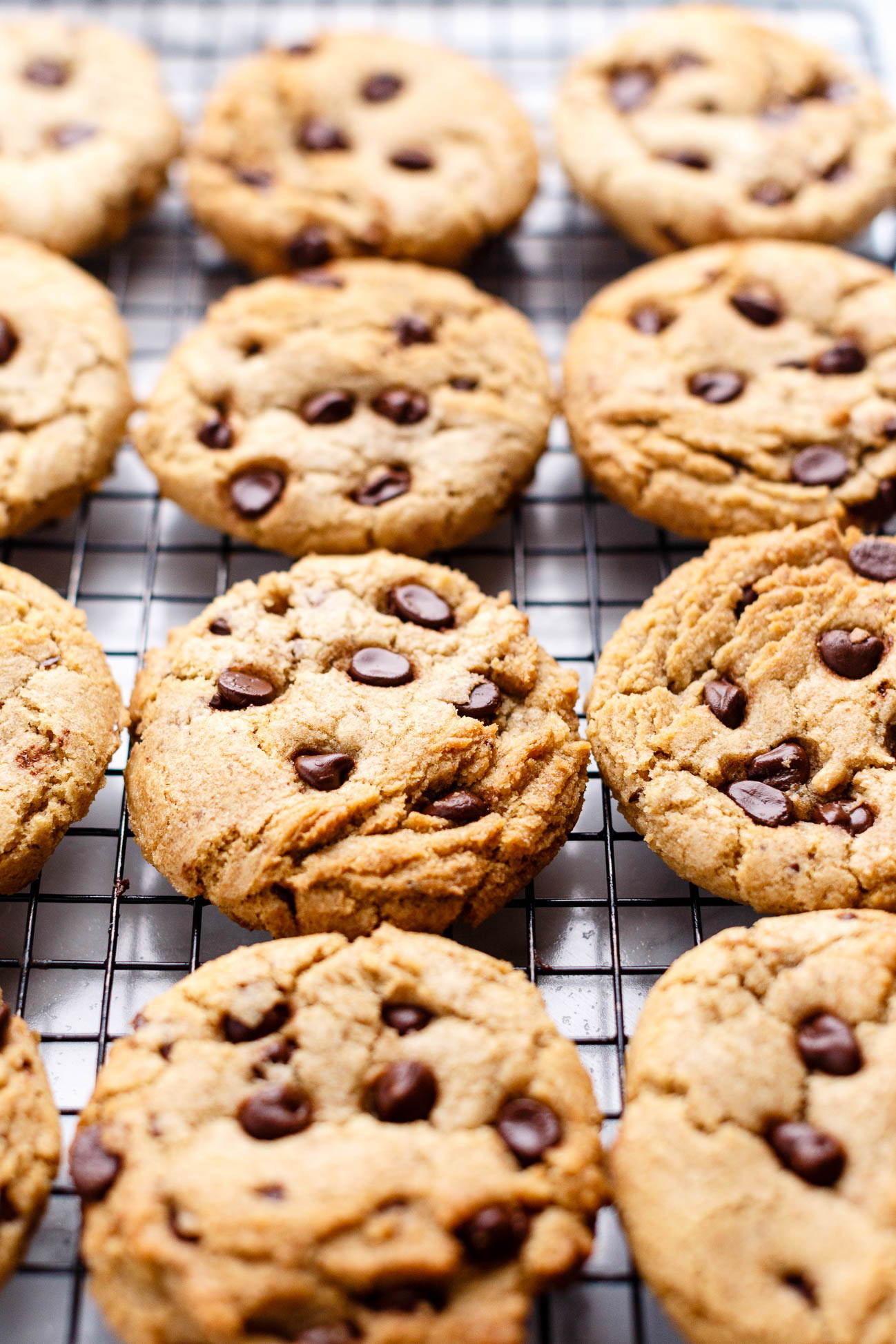 These Vegan Chocolate Chip Cookies are crispy on the outside, chewy on the inside, and everything a chocolate chip cookie should be. I didn't want these cookies to be good, considering they're vegan. I wanted them to be awesome chocolate chip cookies. 
½ cup

+ ⅓ cup/208ml (180g) granulated cane sugar (I use the brand Red Path)

½ cup

/125ml (110g) brown sugar, packed (I use the brand Red Path)

¾ cup

/185ml (170g) vegan butter, such as Earth Balance

2 tbsp

/30ml (15g) ground flaxseed

¼ cup

/60ml non-dairy milk (I used Silk Vanilla Soymilk)

1 tsp

/5ml pure vanilla extract

2 ¼ cup

s/560ml (300g) unbleached all-purpose flour

1 tsp

/5ml baking soda

¼ tsp

/1.25ml salt

¾ cup

/175ml (125g) chocolate chips (check to be sure they're dairy-free)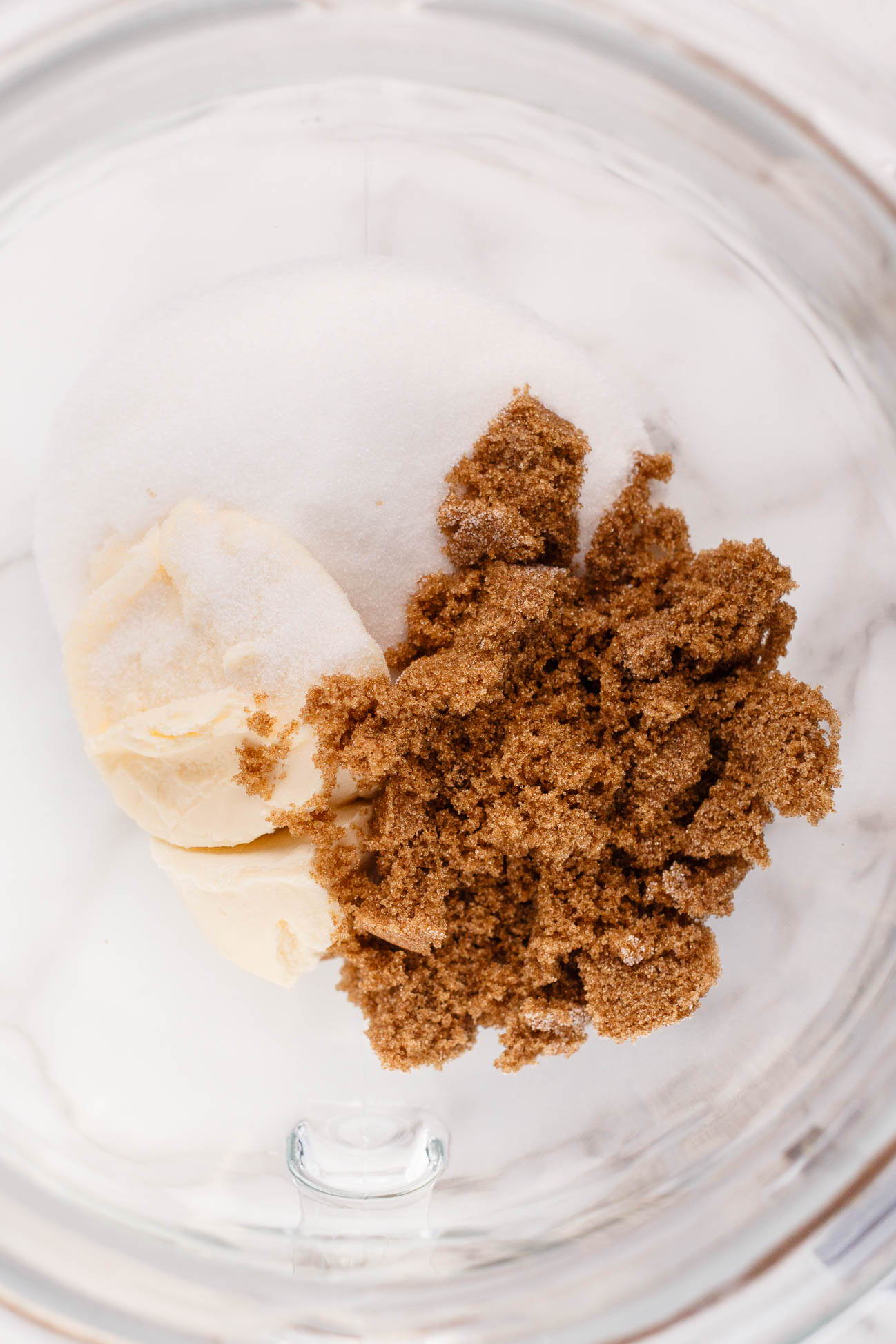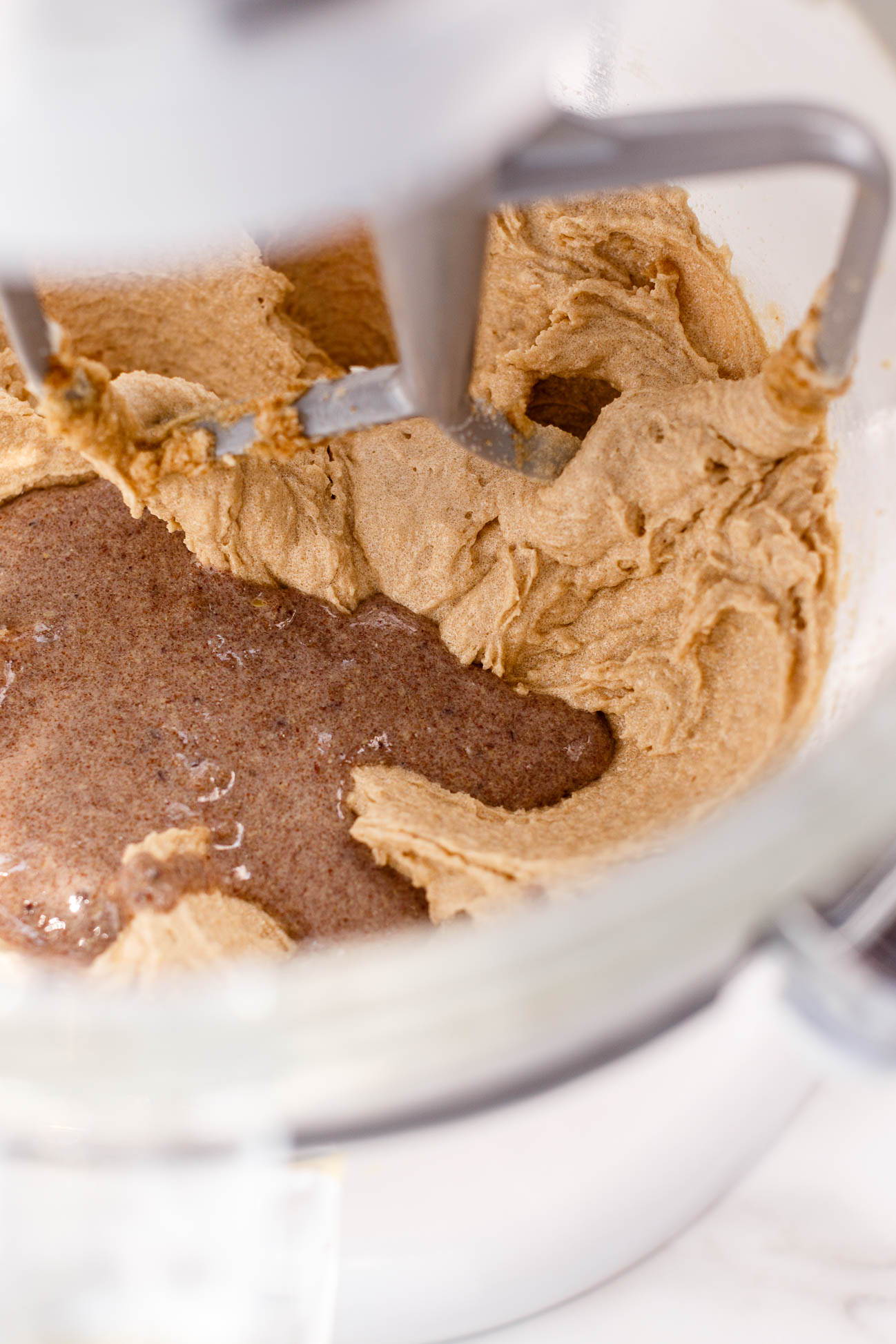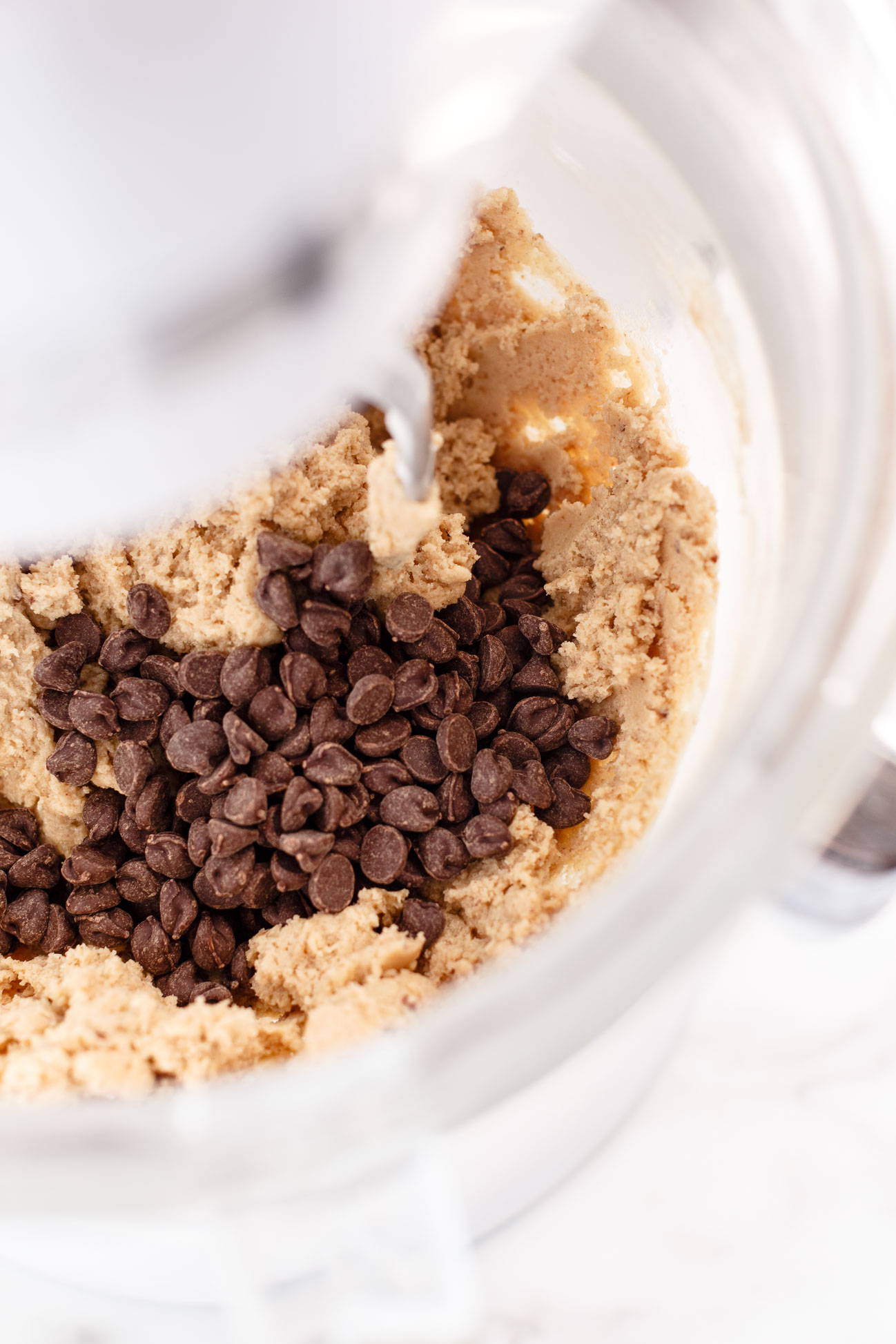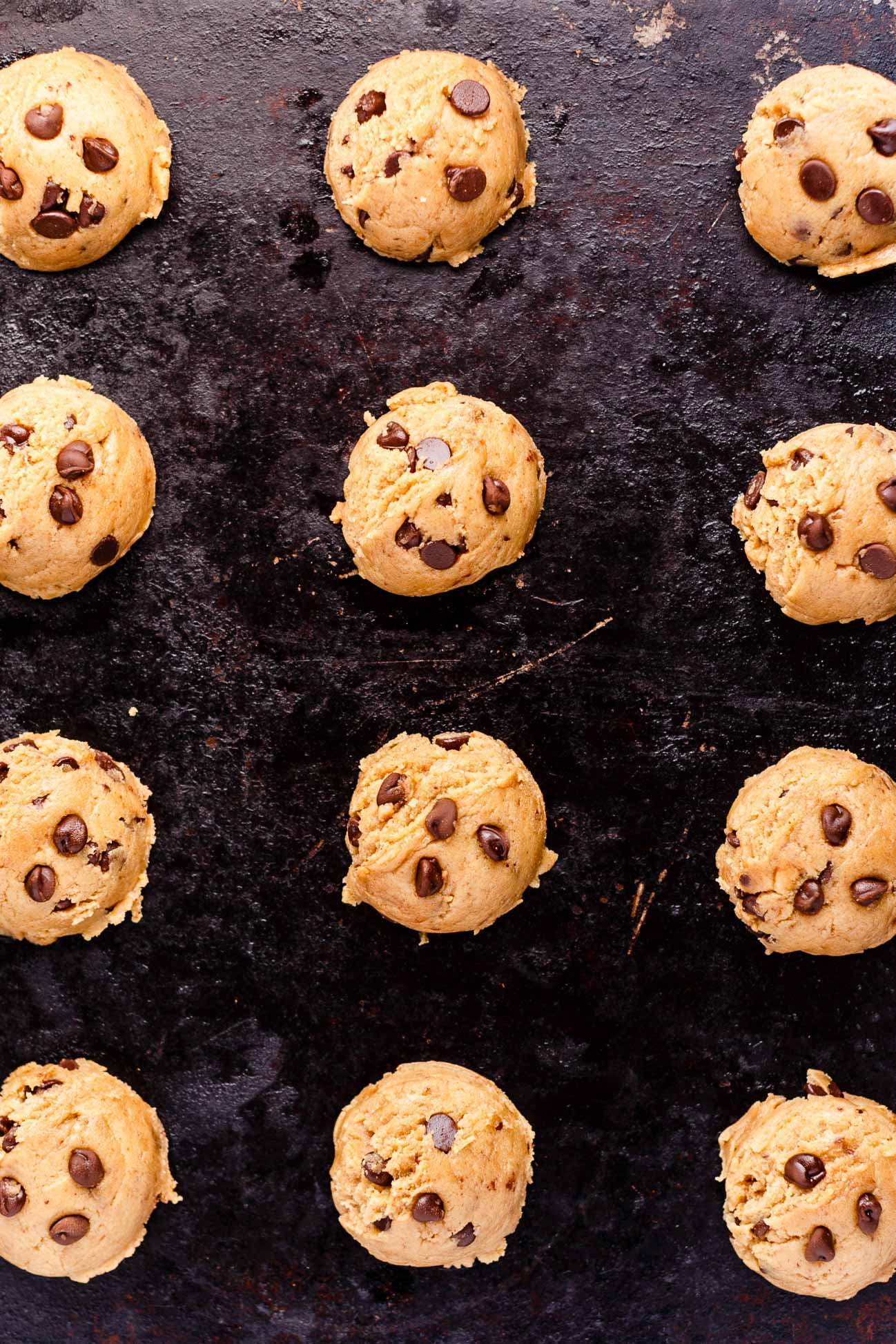 Preheat your oven to 350°F (177°C).
Prepare flax "eggs": In a small bowl or custard cup, stir together ground flaxseed, non-dairy milk, and vanilla extract. Let sit for 5 minutes or until you've completed step 3.
Cream granulated sugar, brown sugar, and vegan butter in a bowl with a paddle for 5 minutes on medium speed.
Add flax "egg" and vanilla extract to the mixture. Mix for 3 minutes on medium speed.
Stir together flour, baking soda, and salt. Add dry ingredients the creamed mixture and mix until well combined.
Stir in the chocolate chips.
Drop spoonfuls of cookie dough onto a baking sheet, leaving at least 1" between cookies to allow room for them to spread while they bake. NOTE: I used a ¼ cup ice cream scoop, not completely full for large, evenly sized chocolate chip cookies.
Bake at 350°F (177°C) for 12 minutes, until the edges are slightly brown and the cookies are soft to the touch and appear puffy. Leave chocolate chip cookies on baking sheet for 5 minutes to firm up before transferring them to a cooling rack.
Store vegan chocolate chip cookies in an airtight container.
---
After dropping the cookie dough onto your baking sheet, add a few extra chocolate chips to the tops. If it doesn't matter how your cookies look, you can skip this step. Your cookies will taste delicious, but most of the chocolate chips will be inside the cookies.
Amazing recipe. Thank you for adding measurements in grams!
- Miami Food Network -
This recipe works best if you weigh out the flour using a kitchen scale. If you're using measuring cups be sure to measure the flour accurately. I can't stress this enough! Don't scoop flour out of the bag/container using your measuring cup. This packs the flour down and you'll end up using too much resulting in dry cookies. For best results when measuring the flour with cups, use a fork or whisk to fluff the flour before gently spooning it into your measuring cup.