Triple Berry Spinach Salad
Triple Berry Spinach Salad
This spinach salad is packed with the best of berry season and is so easy to make too!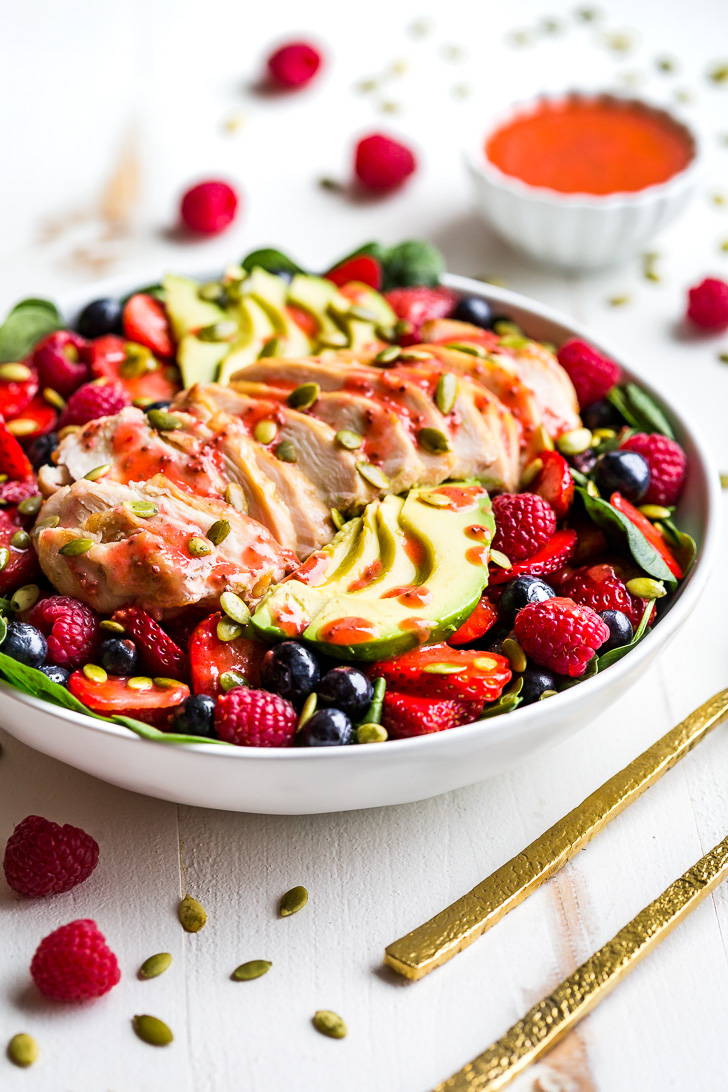 This Triple Berry Spinach Salad is perfect for the height of berry season. It can be made with any combination, or single berry of your choice. It's packed with flavor and veggies, and it's super easy to make as well.
Berry Vinaigrette:
2 Tablespoons

freshly squeezed lemon juice

1/2 Teaspoon

sea salt

1 Teaspoon

Dijon mustard

1/3 cup

sliced strawberries, 3-4

1/3 cup

avocado oil

1 Tablespoon

chia seeds
Salad Ingredients:
12 cups

baby spinach, or mixed greens, arugula, or chopped romaine

1

pound total berries of choice, 4 cups, I used 2 cups strawberries and 1 cup each blueberries & raspberries

1

pound boneless skinless chicken, grilled and sliced or diced, 2 breasts or

4

thighs

1/2 cup

toasted pumpkin seeds

1

ripe avocado, sliced or diced
Optional: 1/2 cup thinly sliced green onion, and or chopped/slivered basil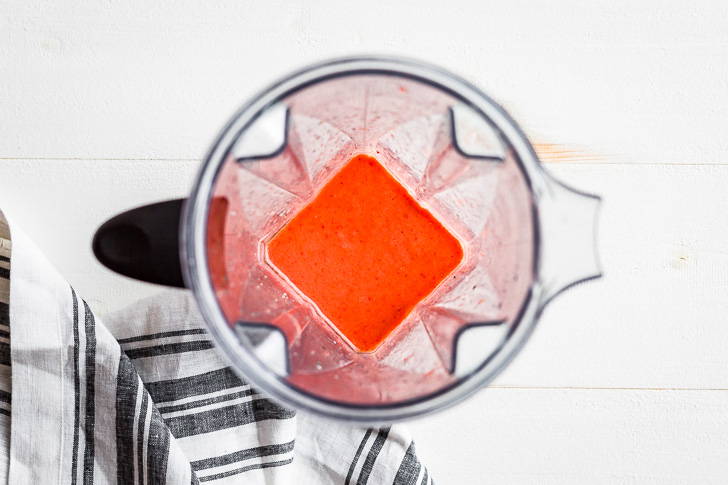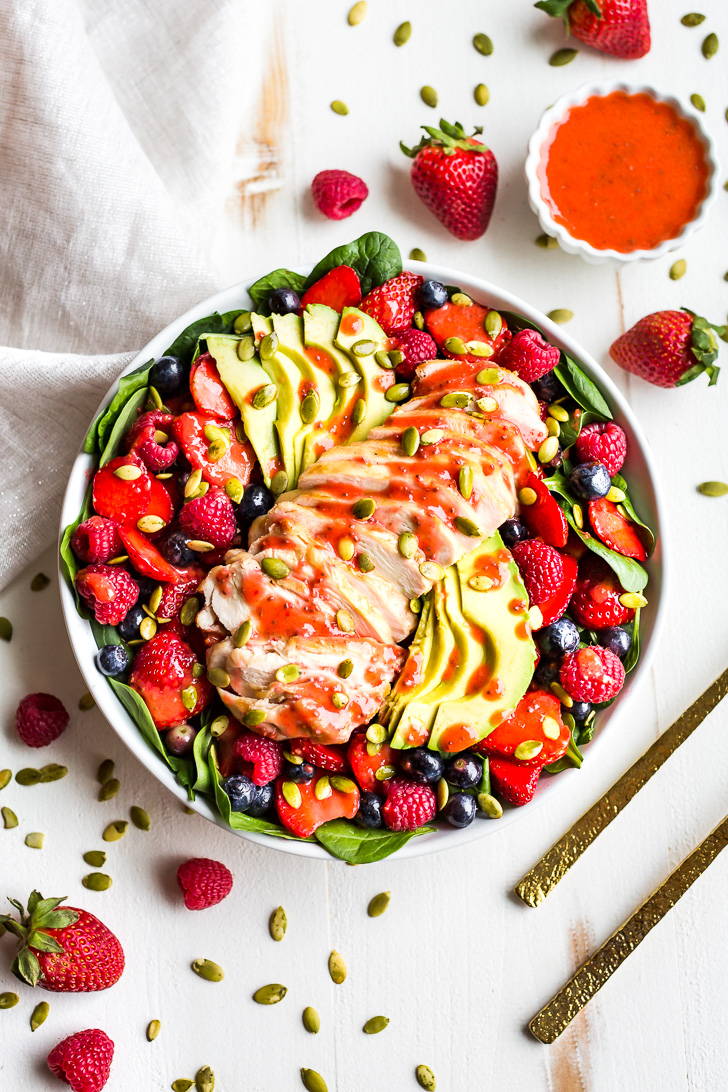 For the dressing, place the lemon juice, sea salt, mustard, and strawberries into the blender. Blend until smooth. Then with the blender running at low speeds, (3-4 on a Vitamix) add the oil slowly in a thin steady stream until all the oil is added and the dressing is emulsified. Transfer to a container/or jar. Then stir the chia seeds in by hand and let sit to thicken about 10 minutes.
While the dressing sits, place the spinach in a large serving bowl. Then top with the grilled chicken, berries, pumpkin seeds, and avocado.
Serve the salad and dressing together, or toss to combine before serving.
---
Nice summer recipe
- Miami Food Network -
Let's talk substitutions/variations:
Berries: as mentioned above, use any combination or single berry you like. Also when stone fruits come in season, try combinations like peach-strawberry or nectarine-blueberry, again the possibilities are endless.
Pumpkin seeds: any nut or seed you like is great here. But to be specific, we love walnuts, pecans, cashews, and sunflower seeds with berries.
Avocado: something creamy is a good substitute or add-on for avocado. Crumbled feta cheese, goat cheese, or blue cheese are my go-to's in berry salads.
Spinach: any green you love the most is great here, arugula, romaine, mesclun mixes, and baby kale.
Dressing: 2-Ingredient Balsamic, Honey Mustard Basil Dressing, Creamy Ginger Dressing, Fennel Vinaigrette, and Creamy Chia Vinaigrette are all great options to take this salad in a new direction.