Red Wine Cranberry Nut Bread
Red Wine Cranberry Nut Bread
...It's a flavor arrangement you never knew you needed in life
I really, really hope I'm not too late with this recipe, because it is really, really good. You need to make this.
An unfinished bottle of red wine would actually be how I ended up creating this recipe. Last weekend, that would be the one before New Year's, we had a cold and gloomy Sunday in my area. I stayed in most of the day, and as happens when I stay in on a dreary day, I got an itch to do some baking. I had an opened bottle of cabernet in the kitchen, and not being much of a drinker I knew it wouldn't get finished. Then inspiration hit! I've seen a bunch of red wine chocolate cake recipes floating around Pinterest, but I've yet to try one. (Stick around because it's still on my list.) Anyhow, food always gets me thinking, and in this case I got to thinking about the
glühwein
I'd recently made and the flavors and wouldn't they go nicely in a loaf of quick bread? Maybe with some cranberries and nuts? Seemed like an interesting idea that I'd have to try out.
For the Bread
3/4

 

cups

 

brown sugar

2

 

tsp.

 

baking powder

1/2

 

tsp.

 

baking soda

1/2

 

tsp.

 

salt

1

 

tsp.

 

ground cinnamon

1/4

 

tsp.

 

ground cloves

1

 

tbsp.

 

orange zest

1/4

 

cup

 

vegan margarine

 

melted

1

 

cup

 

red wine

1

 

tsp.

 

vanilla extract

1

 

cup

 

dried cranberries

1/2

 

cup

 

chopped walnuts
For the Orange Glaze
1/2

 

cup

 

powdered sugar

1

 

tbsp.

 

orange juice

1

 

tsp.

 

vanilla extract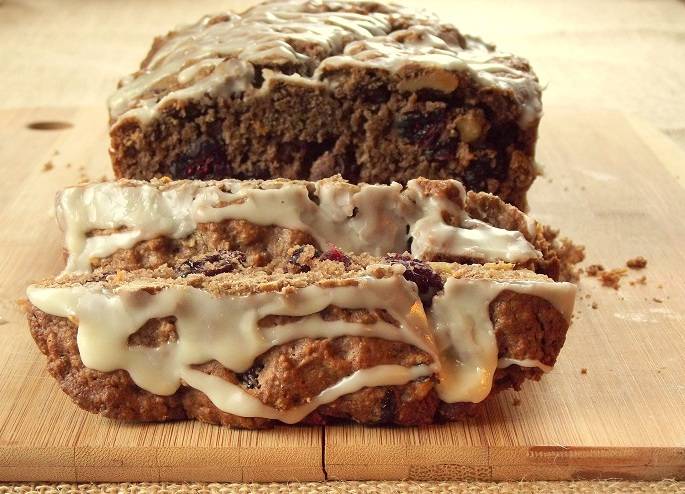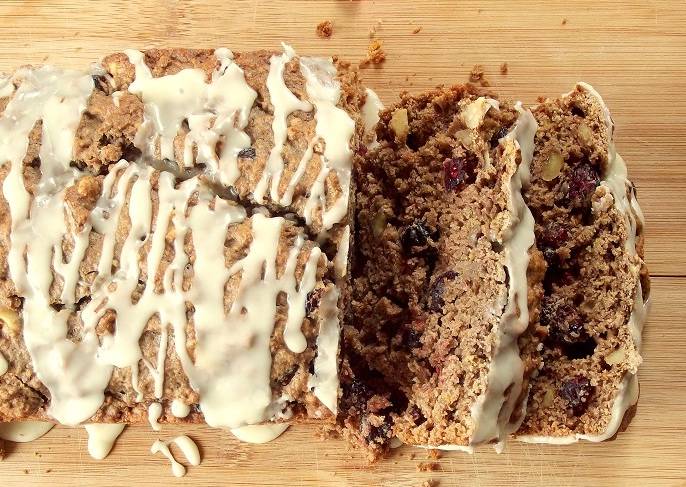 Preheat oven to 350º. Grease or spray 9 x 5 loaf pan.

In large mixing bowl, mix flour, sugar, baking powder, soda, salt and spices.

Add zest, margarine, red wine and vanilla.
Mix just until blended.
Fold in berries and nuts.
Pour batter into prepared loaf pan.
Bake about 50 minutes, or until toothpick inserted into center comes out clean.
While bread bakes, whisk glaze ingredients together in small bowl.
Remove bread from oven and allow to cool completely before removing from pan.
Drizzle with glaze.
---
I've made these twice and while delicious both times, they were also slightly to undeniably blue both times. Still a great recipe, but sometimes needs an explanation
- Miami Food Network -
I have to admit that even though I thought myself brilliant when I came up with this, I didn't really have the highest of hopes. It felt a lot like taking a shot in the dark. The batter did not taste good. As much as I love red wine and I love cranberry bread batter, the two don't just mix up and instantly become tasty. The alcohol needs to cook off before that happens. My hope rose a little bit while the bread was baking. It smelled great, actually a lot like glühwein smells while simmering away on the stovetop.
The finished product was shockingly good. I was so itching to try it, but didn't want to deface my loaf before photographing it. As always happens though, I had to pick and rearrange while shooting, and all the little spare bits ended up in my mouth. I was stunned. This bread is amazing. It tastes like…red wine, but at the same time it doesn't taste like red wine. Think of it this way: all of the flavors in red wine that could potentially be tasty in a baked good, i.e., the richness, fruitiness, that light tang…those are in there. The stuff you don't want to taste, i.e., alcohol, is all gone. It's all very nicely complimented by the cranberries, nuts and orange zest. It's a flavor arrangement you never knew you needed in life. Now you do. Enjoy :)