Raspberry Almond Chocolate Cupcakes
Raspberry Almond Chocolate Cupcakes
These Almond Raspberry Chocolate Cupcakes are a treat everyone will love.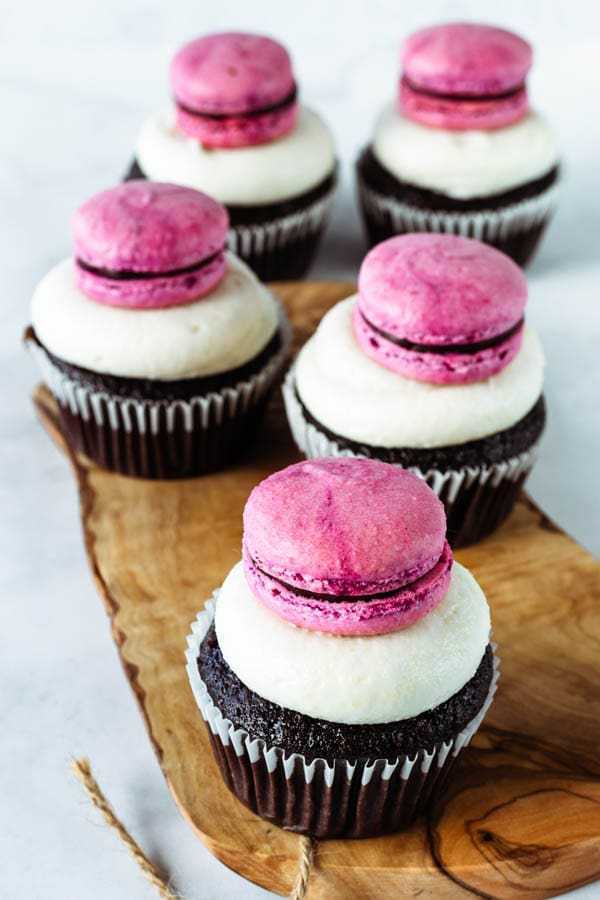 Chocolate Almond Cupcakes, filled with Raspberry Jam, frosted with Almond Buttercream, topped with a Raspberry Macaron filled with raspberry jam and dark chocolate ganache.
Chocolate Almond Cupcakes
1 1/4

cups

all-purpose flour

160 grams, 5.65 oz

1/4

cup

almond flour

24 grams, 0.84 oz

1/4

cup

unsweetened cocoa powder

31 grams, 1.125 oz

1

cup

granulated sugar

200 grams, 7 oz.

1

teaspoon

baking soda

3/4

teaspoons

baking powder

1/2

teaspoon

fine sea salt

1

cup

brewed coffee

1

tablespoon

white vinegar

1

teaspoon

vanilla extract

1/4

teaspoon

almond extract

1/2

cup

canola oil

107 grams, 3.8 oz
Raspberry Jam
1

cup

raspberries

fresh or frozen (283 grams, 10 oz)

1/4

cup

maple syrup

you can use granulated sugar, or other sweetener instead

1

tablespoon

lemon juice

1

tablespoon

cornstarch

1

tablespoon

cold water
Almond Buttercream Frosting
1/2

cream cheese softened

113 grams, 4 oz

1/4

cup

unsalted butter

softened (56 grams, 1 oz)

2 1/4

cups

powdered sugar

283 grams, 10 oz

1/4

cup

almond flour

24 grams, 0.84 oz

1/4

teaspoon

almond extract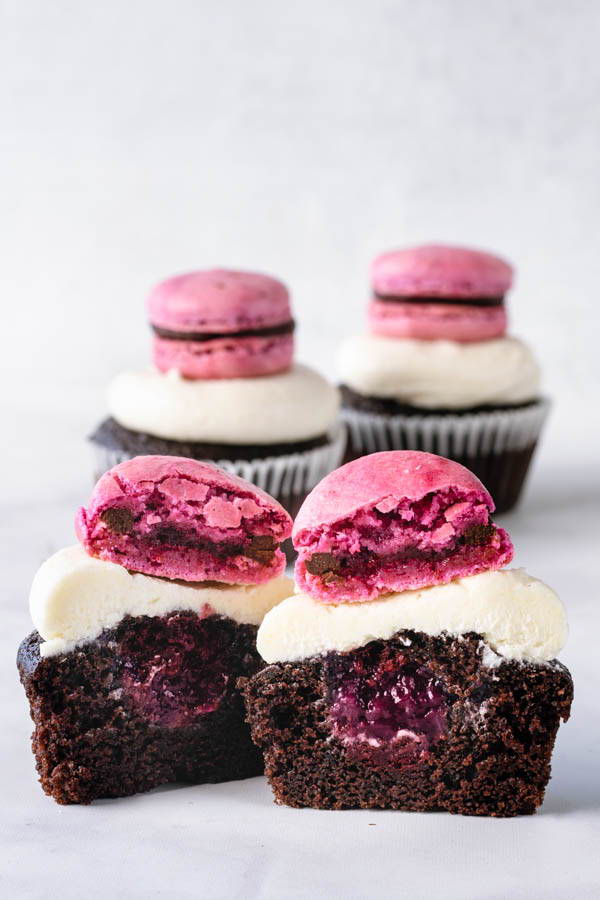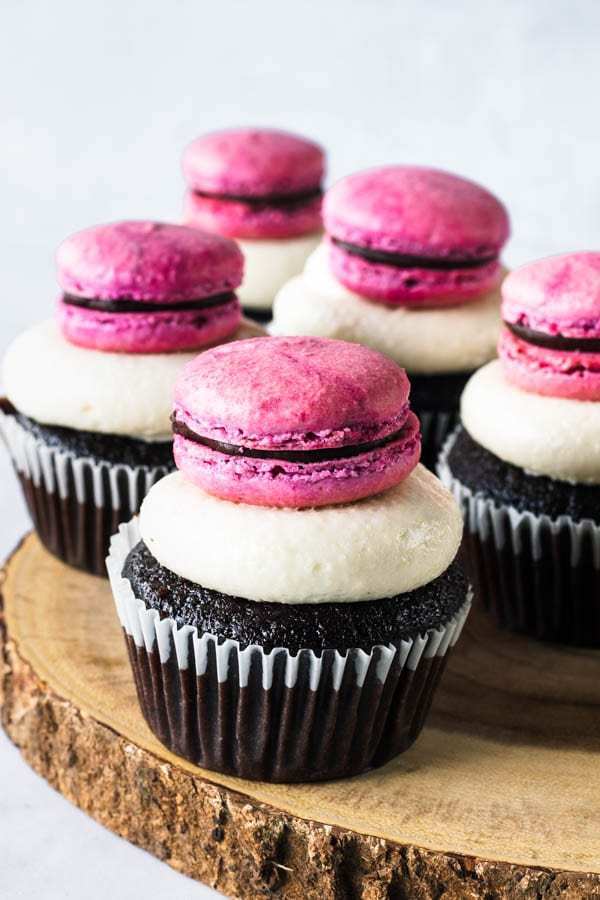 Chocolate Cupcakes
Pre-heat oven to 350F. Line a 12-cupcake pan with cupcake liners or grease it with butter and flour.

Sift flour, almond flour, cocoa powder, sugar, baking soda, baking powder, and salt together in a large bowl.

In another bowl, mix coffee, vinegar, vanilla and oil. Pour dry mixture over wet ingredients. Whisk briefly, until incorporated. Be careful not to overmix. As soon as you see no more streaks of dry mixture, stop whisking.

Distribute batter evenly in cupcake pan.

Bake for 15-20 minutes.

Remove and let it cool.
Raspberry Jam
Mix raspberries, maple syrup (or sweetener) and lemon juice in a small pot. Bring to a boil over medium heat, cook, stirring, for about 5 minutes. Use the spoon to break up the raspberries as you stir.

Mix cornstarch and cold water in a small bowl.

Once raspberries have boiled and reduced a bit, add cornstarch and water to the pan.

Bring back to a boil, stirring constantly, until mixture is thickened.

Pour through a strainer, and keep on stirring the mixture to strain the jam. Make sure to press it through really well so you can get the most out of it, and just leave the seeds behind. If you like the seeds, just skip the straining. I never skip it.

Let jam cool. Cover it with plastic wrap and place it in the fridge.

Almond Buttercream

Mix cream cheese and butter in the bowl of an electric mixer. Cream both together for about 2 minutes at medium-high speed, until very fluffy and soft.

Sift powdered sugar and almond flour together.

With the mixer turned off, add sifted mixture to the bowl.

Mix on low until the sugar and almond flour have been incorporated.

Add almond extract and cream mixture for about one minute on medium high speed.

If you find that the mixture is too stiff, it might need a drop of milk or two.

If you find the mixture to be too runny, it might be because your butter or cream cheese could be too warm, and in that case I'd put my bowl covered with plastic wrap in the fridge for a while to let the fats become a bit more solid.

If the temperature of the butter and cream cheese is fine, and the mixture is runny, simply add a bit more powdered sugar, slowly, a little at a time, until you achieve the desired consistency.

To assemble

Use a spoon to remove the center of the cupcakes. Fill the cupcakes with about 1 teaspoon of filling. Top with the cupcake part you removed.

Cover with the Almond Buttercream. I chose to top mine with a Raspberry Macaron. You can top it with fresh raspberries or chocolate!
---
Store Cupcakes in the fridge, covered for up to 3-4 days.
Can`t wait to make it for my kids. I`m sure they will love it!
- Miami Food Network -