Pumpkin Cream Cheese Truffles
Pumpkin Cream Cheese Truffles
A delicious no bake truffle that is combined with pumpkin and cream cheese!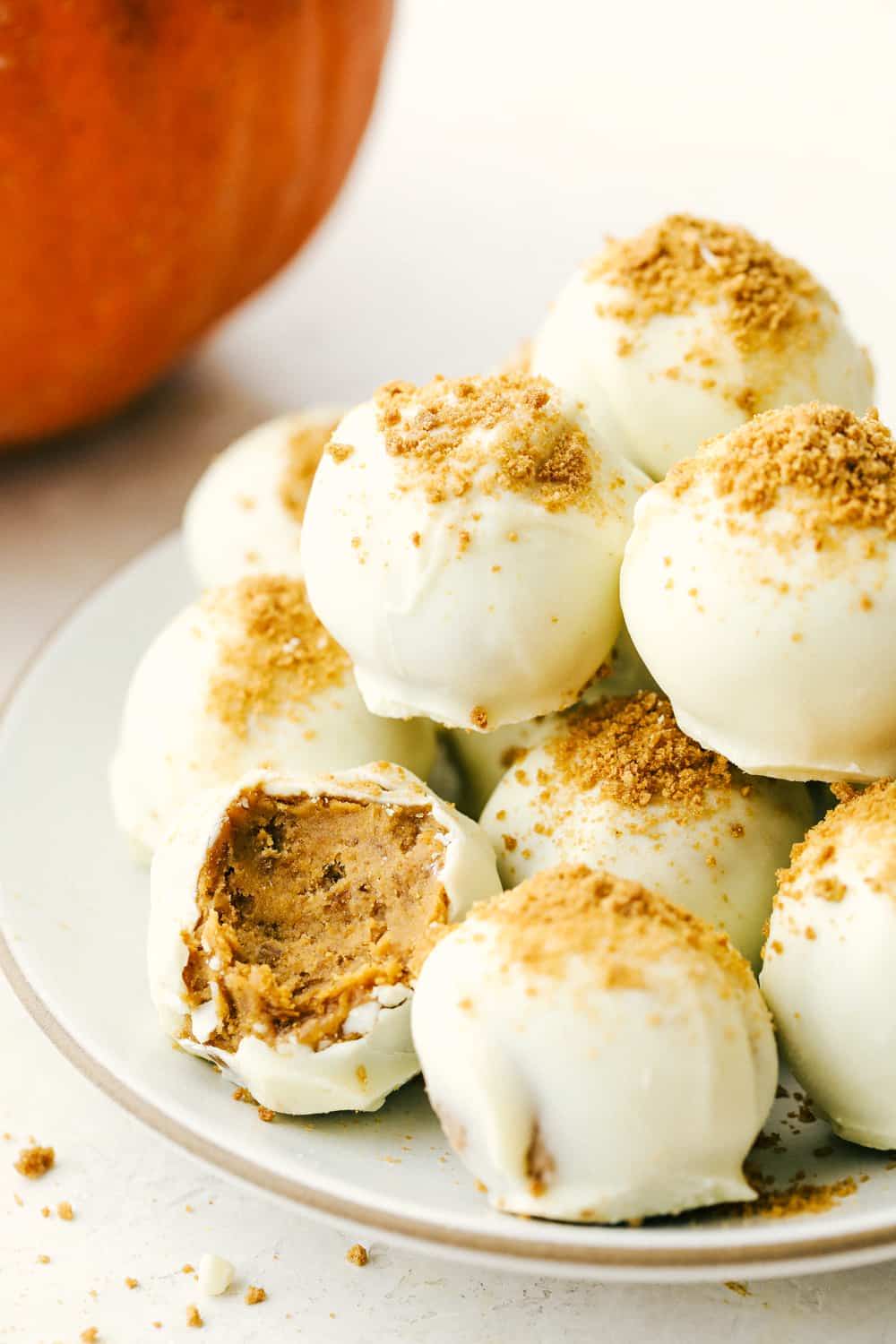 These Pumpkin Cream Cheese Truffles are the perfect dessert when you want something sweet and full of those sweet fall flavors but you don't want a whole piece of pie. Pumpkin and cream cheese are a match made in heaven and the richness of these truffles is irresistible.
1 1/2

 

cup

 

gingersnap cookie crumbs
1/4

 

cup

 

graham cracker crumbs

2

 

ounces

 

cream cheese

 

softened

2

 

tablespoon

 

confectioners' sugar

1/4

 

cup

 

canned pumpkin purée

1/4

 

teaspoon

 

ground cinnamon

Pinch

 

of fine salt

½

 

cup

 

white chocolate chips

2

 

cups

 

white chocolate chips

 

almond bark will also work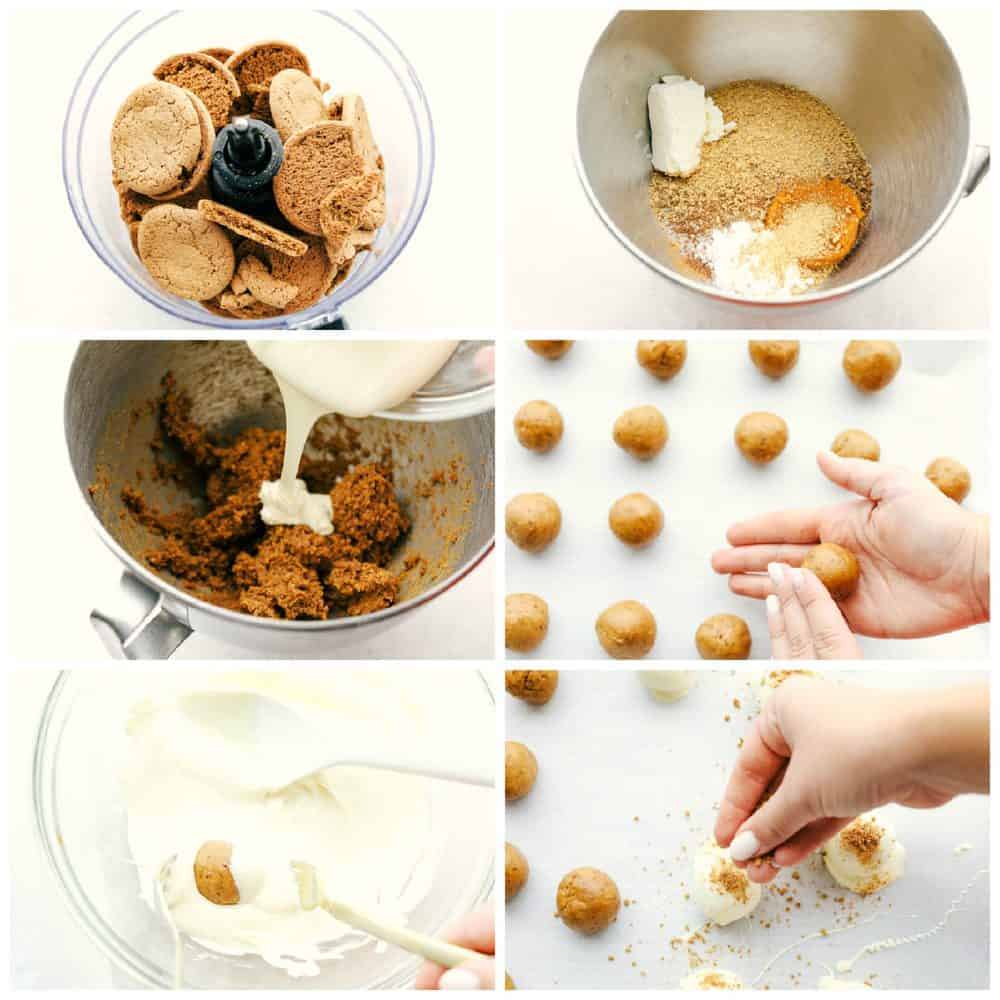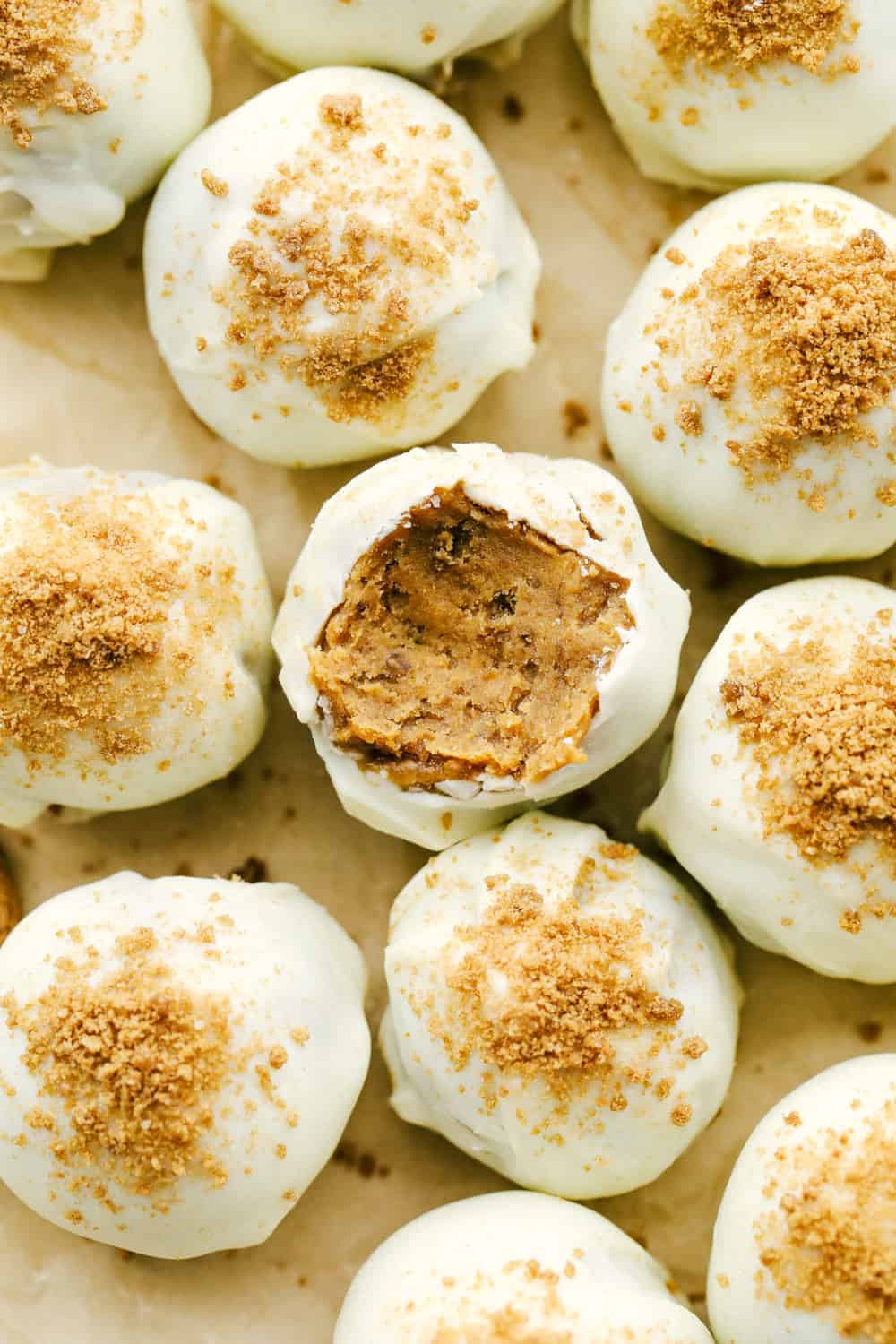 In a large mixing bowl or kitchen aid mixer with paddle attachment, combine gingersnap crumbs, graham cracker crumbs, cream cheese, sugar, pumpkin puree, cinnamon and salt. Beat until smooth.

Melt 1/2 cup chocolate chips in microwave every 30 seconds, stirring so that it doesn't burn. Add the melted chocolate and combine with mixture. Cover and chill for about 2 hours until it is solid enough to roll into balls.

Line a baking sheet with parchment paper and roll one heaping teaspoon of the mixture into balls. Melt the remaining white chocolate and drop the balls in the chocolate using a spoon to coat. Lift the truffle out of the chocolate and place on the parchment paper. Garnish with additional gingersnap crumbs and graham cracker crumbs if desired.

Chill truffles for about 30 minutes until chocolate has set. Refrigerate remaining truffles.
---
These look amazing! I love pumpkin anything all year round and can't wait to try these out.
- Miami Food Network -
Why this Truffle Works and Tips:
Gingersnaps and Graham Crackers: Truffles need a soft mold-able center so you can roll them into that iconic truffle shape. The gingersnap and graham cracker crumbs provide the stability and intense added flavor to the pumpkin mixture. Pumpkin puree is borderline runny. Combined with the cream cheese and white chocolate you have a perfectly soft delicate flavored middle.
Crumb Tip: The finer the crumb the easier the filling will be to shape and roll and mix together.
White Chocolate: White chocolate chips are made to hold their shape when melted so it can be tricky to get it the right consistency. That's why you want to melt it in increments, and stirring often to help break it down and not burn it. Using the White chocolate chips in the batter will help it hold it's shape when it cools.
White Chocolate Tip: If you have trouble melting the chocolate to the right consistency for the outer coating, use the almond bark or a high quality white chocolate that will melt easier.
Melting:  Moisture is the enemy of melting chocolate. Be careful not let water get into your chocolate especially if you use a double boiler to melt it.
Variations of Pumpkin Truffles:
Chocolate: Try using dark, semi-sweet or milk chocolate for your outside coating.
Garnish: Sprinkle with pumpkin pie spice or course salt for a different flavor.
Filling: Add in finely chopped walnuts or pecans for a little extra crunch.
Substitute: You can substitute pumpkin pie spice for the cinnamon or add nutmeg with the cinnamon for a bit for zing.