This Oreo Brookie Tiramisu has layers of brownie, Oreos and chocolate chip cookies, kahlua and espresso, and tiramisu filling!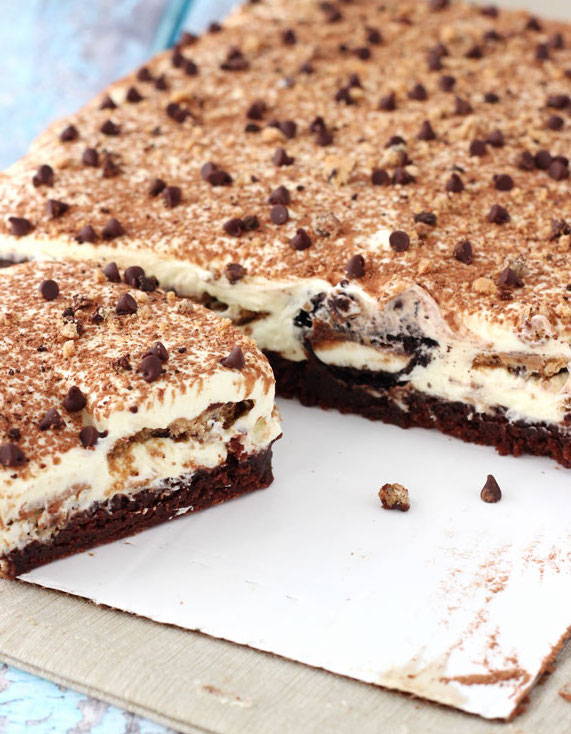 Have you ever heard of slutty brownies? They are a layer of cookie, Oreo and brownie. They were all over pinterest for a while. So immediately my mind went to those brownies and I started wondering how I could combine them with tiramisu to make the most epic TIRAMISU dessert ever!
Then this was born.
The layers?
A brownie, drizzled with espresso and Kahlua.
Tiramisu filling (my love! it's so much better homemade!) Oreos and chocolate chip cookie, dipped in espresso and Kahlua. More tiramisu filling. A dusting of cocoa powder.
3/4 cup

vegetable oil

1 1/2 cup

s

sugar

1 1/2 tsp

vanilla extract

3

eggs

3/4 cup

flour

1/3 cup

+

2 1/2 tbsp

cocoa

1/4 tsp

+

1/8 tsp

baking powder

1/4 tsp

salt

2 tsp

instant espresso coffee granules
6

egg yolks

1 1/4 cup

s sugar

1 1/4 cup

s mascarpone cheese

1 3/4 cup

s heavy whipping cream
1 1/2 tbsp

warm water

1 tbsp

instant espresso coffee granules

1/2 cup

Kahlua

15

Oreos

10

–

15

chocolate chip cookies (depending on size)

1 tsp

cocoa powder, for dusting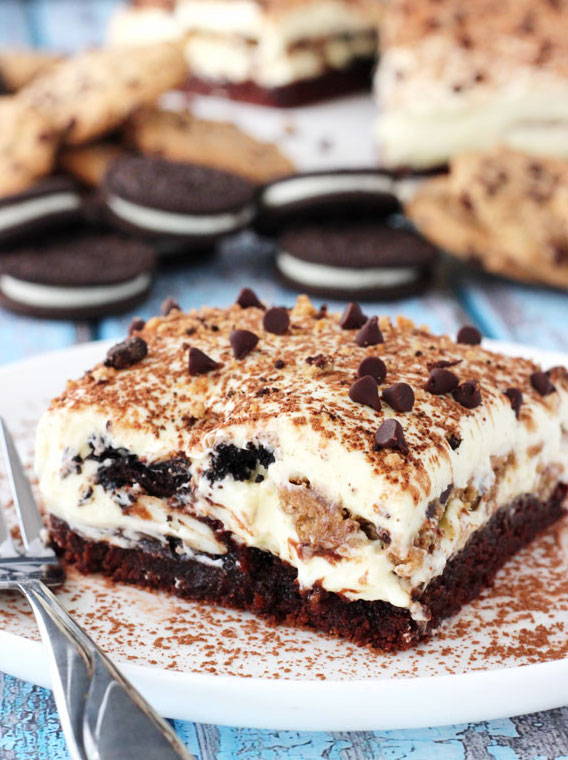 INSTRUCTIONS
1. Preheat oven to 350 degrees. Grease a 9×13 baking pan, or line it with parchment paper that stick above the sides of the pan. You can use it to lift the brownies out of the pan later, if desired.
2. Whisk the oil, sugar and vanilla extract together until well combined.
3. Add eggs and whisk until well combined.
4. Combine flour, cocoa, baking powder, salt and espresso granules in a separate bowl.
5. Slowly add dry mixture to the egg mixture until well combined.
6. Pour the batter into the pan and spread evenly.
7. Bake for 20-25 minutes, or until a toothpick comes out with a few crumbs.
8. Allow brownie to cool completely.
9. To make filling, combine egg yolks and sugar in the top of a double boiler, over boiling water. If you don't have a double boiler, you can use a metal mixing bowl set over a pot with simmering water in it.
10. Cook for about 6-8 minutes, with heat on low, stirring constantly, or until mixture is light in color and sugar is dissolved. If mixture starts to get too thick and a darker yellow, it's overcooked
11. When done, whip yolks with mixer until they thicken and yellow a bit.
12. Fold mascarpone into whipped yolks.
13. Add heavy whipping cream to another mixer bowl and whip until stiff peaks form, about 5-7 minutes.
14. Fold whipped cream into mascarpone mixture.
15. To assemble tiramisu, first add espresso granules to warm coffee in a small bowl and stir to dissolve.
16. Add Kahlua to espresso mixture.
17. Drizzle about 3 tbsp of Kahlua mixture over the brownie.
18. Spread half of the filling evenly on top of the brownie.
19. One at a time, dip Oreos and chocolate chip cookies into kahlua mixture and place them on top of filling. I did alternative rows of each cookie for two rows of Oreos and two rows of chocolate chip cookies. Your rows and number of needed cookies may vary depending on their size.
20. Top cookies with remaining filling, then dust with cocoa powder. Refrigerate until ready to serve.
---
This is so over-the-top amazing! I am a sucker for slutty brownies and all combinations thereof! 🙂
- Miami Food Network -
I made it, set if in the fridge overnight and hoped for the best. The next morning I took the photos and held my breath as I took a bite.
Oh my goodness.
Dessert heaven.
Who knew tiramisu could be exponentially better? I mean for reals. This thing is the bomb. Brownie, cookies, Kahlua, coffee, tiramsiu filling! I know I keep saying it, but can't you just taste it all just thinking about it?!
Best idea ever. I need to have random conversations like that more often.
I thought about calling it slutty tiramisu, but didn't want to insult anyone. So I went with the more descriptive name of Oreo Brookie Tiramisu. You can, however, call it slutty tiramisu if you'd rather. It's kinda fun and certainly sparks people's interest.
Whatever you call it, make it. You'll thank me later.