Grilled Salmon with Avocado Salsa
Grilled Salmon with Avocado Salsa
Salmon that gets grilled in the best spice rub and topped with a fresh avocado salsa.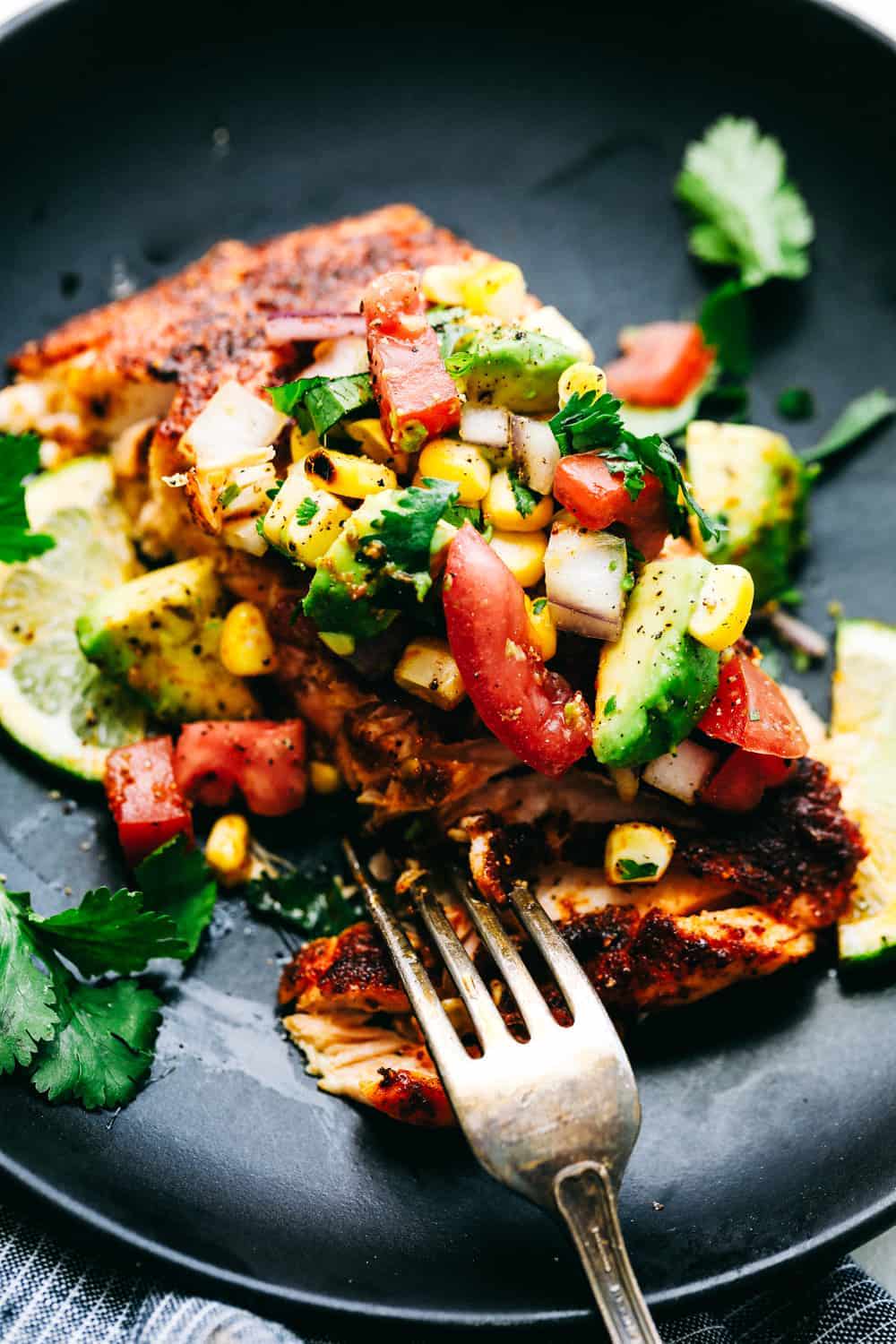 This grilled salmon is healthy and packed with flavor. Anything topped with avocado salsa is amazing. The great thing about salmon is that it only takes minutes to cook. And it is so tender and flaky and melts in your mouth. This is a simple grilled salmon recipe and it is ready in the matter of minutes. The spice rub gives it such amazing flavor. And the avocado salsa was the perfect finishing touch to this amazing and healthy meal!
2

 

lbs

 

salmon

1

 

tbs

 

olive oil

1

 

tsp

 

salt

1

 

tsp

 

chili powder

1

 

tsp

 

paprika powder

1

 

tsp

 

onion powder

1/2

 

teaspoon

 

garlic powder

1

 

tsp

 

black pepper
Avocado salsa ingredients:
½

 

small red onion

 

chopped
1/2

 

cup

 

corn

Juice from 2 limes

2

 

tbs

 

finely chopped cilantro

dash of salt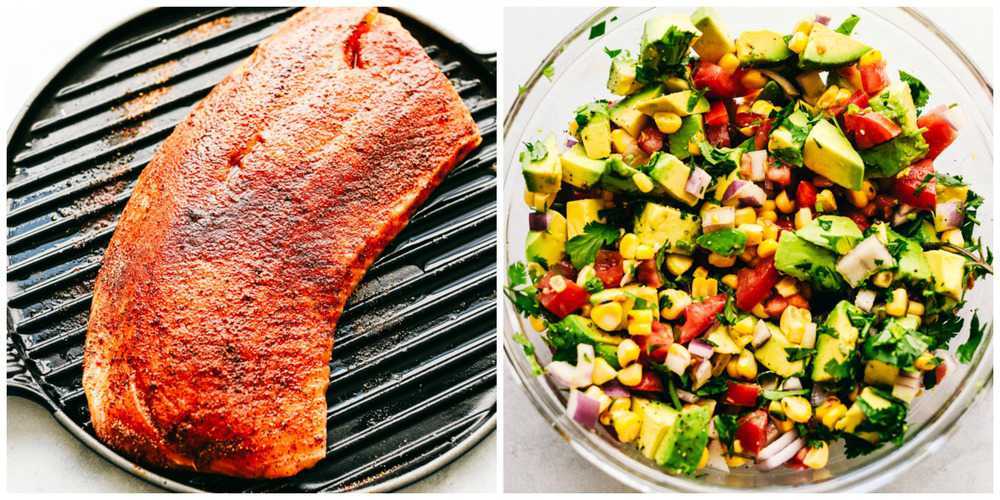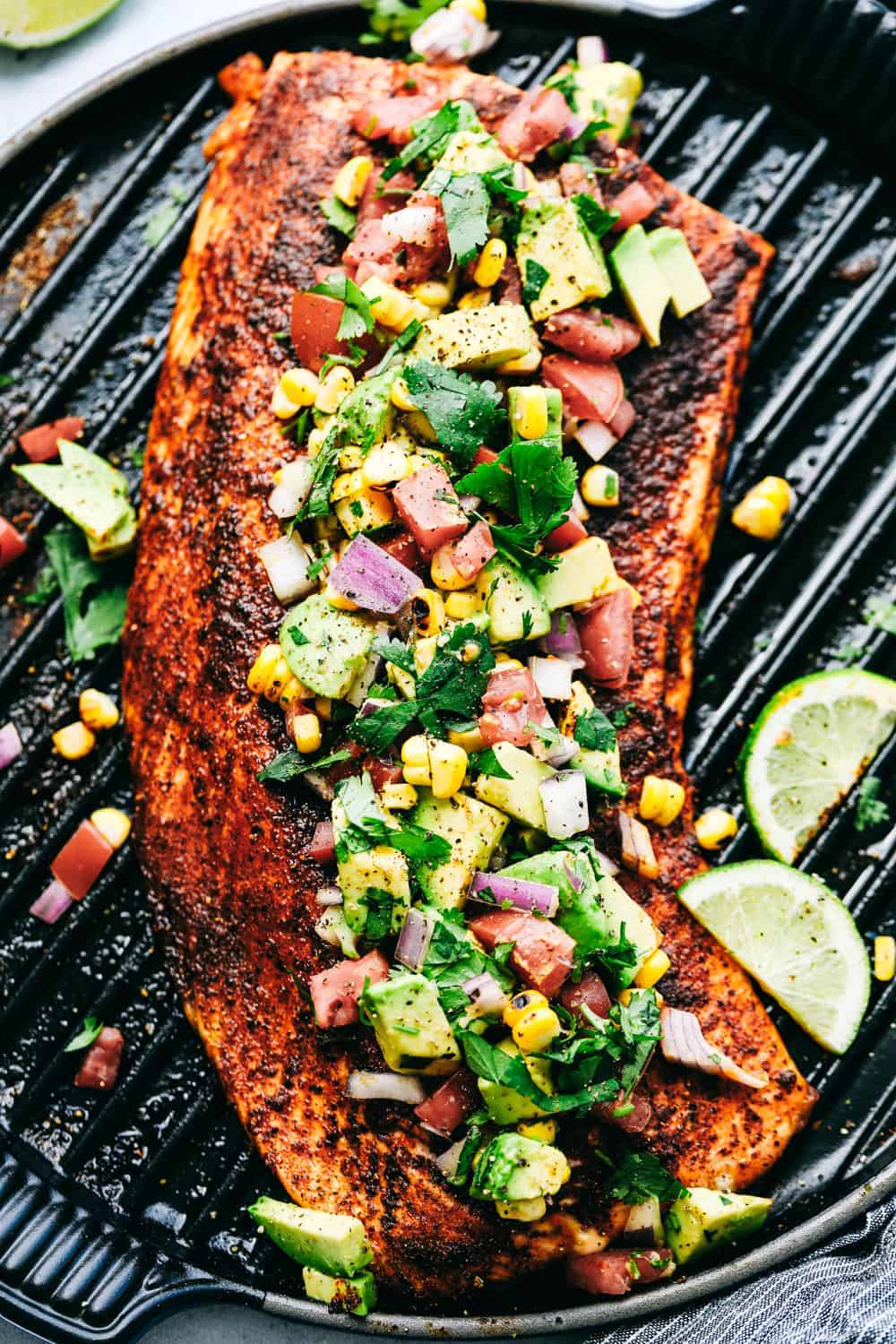 In a small mixing bowl combine salt, chili powder, paprika, onion powder, garlic powder and black pepper.

Rub the salmon fillets with the olive oil and rub with the spice mix.

Grill the salmon on medium heat for about 3-5 minutes or until desired doneness.

Mix the avocado, Roma tomato, red onion, chopped cilantro, salt and juice from the limes in a small mixing bowl. Top the salmon with the avocado salsa.
---
We have been looking for a salmon recipe and no need to look further, this is perfect!
- Miami Food Network -
What are the Benefits of Eating Salmon?

Salmon is a popular food. Classified as an oily fish, salmon is high in protein, omega-3 fatty acids, and vitamin D, and is therefore considered to be healthy. Salmon is also a source of cholesterol, with a range of 23–214 mg/100 g depending on the species.

Do You Cut the Skin Off of the Salmon Before Grilling?

First of all—skin is tasty! So when you're cooking salmon, keep that skin on. It provides a safety layer between your fish's flesh and a hot pan or grill. Start with the skin-side down, and let it crisp up. It's much easier to slide a fish spatula under the salmon's skin than under its delicate flesh. If you prefer no skin, that is great too! The skin can come off easily and still tastes and cooks just as great!

Are Avocados Good For You?

Also known as an alligator pear or butter fruit, the versatile avocado is the only fruit that provides a substantial amount of healthy monounsaturated fatty acids (MUFA). Avocados are a naturally nutrient-dense food and contain nearly 20 vitamins and minerals.

How Long Does the Avocado Salsa Last?

This fresh salsa will last for a couple days in the fridge if stored in an airtight container. Over time, the tomatoes will release more juice and the avocado will begin to brown. It'll be fine to eat, though!