Chocolate French Toast with Strawberry Syrup
Chocolate French Toast with Strawberry Syrup
This french toast recipe seems too good to be true!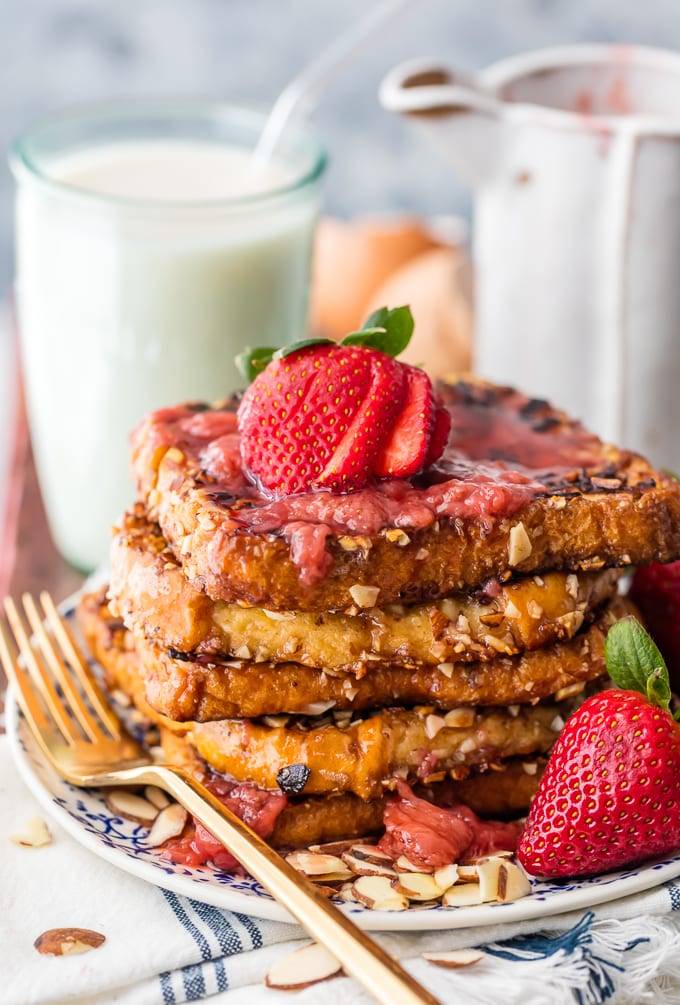 Who says you can't have chocolate for breakfast, especially on Valentine's Day? This recipe adds extra-special chocolate yumminess to a familiar favorite. Treat your loved ones to an indulgent morning meal, which can be prepped the night before and ready to go in the oven the next morning!
French Toast
12 slices (1 inch thick) French bread
2 tablespoons granulated sugar
SAVE $
3/4 cup semisweet chocolate chips
1 tablespoon powdered sugar
Additional semisweet chocolate chips
Strawberry Syrup
1 lb strawberries, halved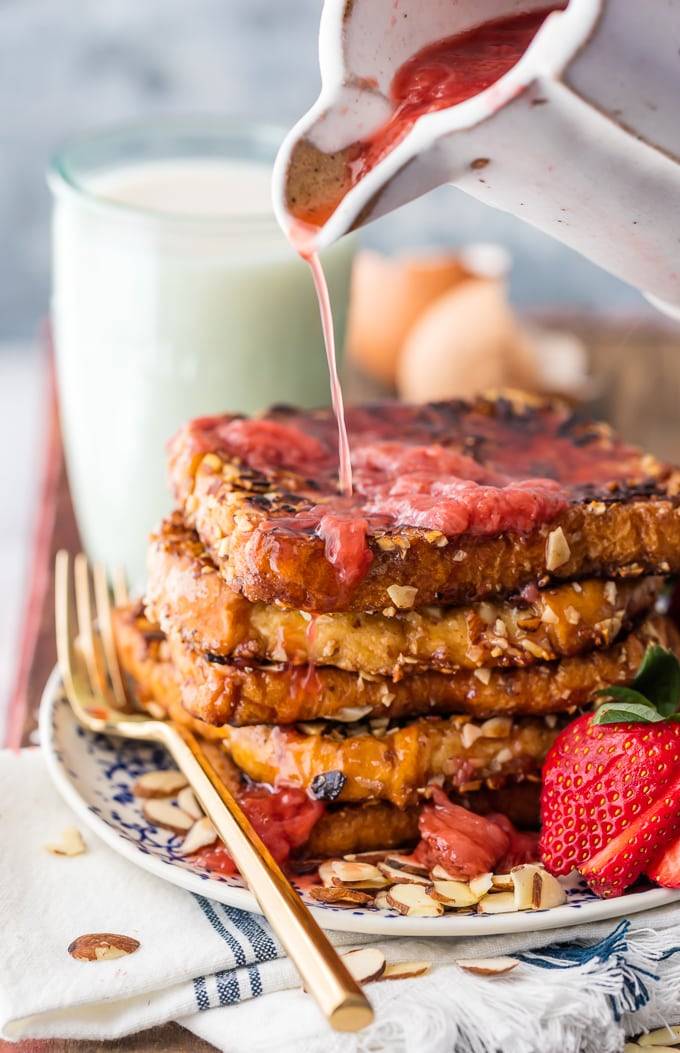 To make French Toast: Grease bottom and sides of 13x9-inch pan; line with bread slices.
In 2-quart saucepan, heat milk, cream, butter, granulated sugar, vanilla and salt to simmering over medium-low heat, stirring occasionally. Remove from heat; stir in 3/4 cup chocolate chips until melted and smooth. Gradually beat in eggs with whisk until well combined and mixture thickens.
Pour chocolate mixture evenly over bread. Make sure to coat bread completely, turning slices over if necessary. Cover and refrigerate at least 2 hours but no longer than 8 hours. Remove from refrigerator 30 minutes before baking.
Heat oven to 375°F. Bake 25 to 30 minutes or until chocolate mixture sets. Meanwhile, make Strawberry Syrup.
To make Strawberry Syrup: Heat strawberries and maple syrup in 1-quart saucepan to simmering over medium-high heat. Reduce heat to medium-low; cook, stirring occasionally, until strawberries have softened. Slightly mash strawberries with fork or potato masher. Keep syrup warm until ready to serve. Serve with warm French toast sprinkled with powdered sugar and additional chocolate chips.
---
Garnish French toast with extra chocolate chips and a dollop of whipped cream, if desired.

Too good!!! Made this for breakfast on Valentine's Day...we loved it...easy and tasty...reminded me of brownies.
- Miami Food Network -
With Valentine's Day right around the corner, this breakfast stunner is a sure points earner for you. Make it for your special someone and watch their eyes light up. Many "mmm's" are sure to ensue. I mean, strawberries are already super romantic, right? They practically look like little fruit hearts.