Chocolate Chunk Mandel Bread
Chocolate Chunk Mandel Bread
This crowd-pleasing mandel bread, a traditional Jewish cookie, is studded with walnuts and chocolate chips.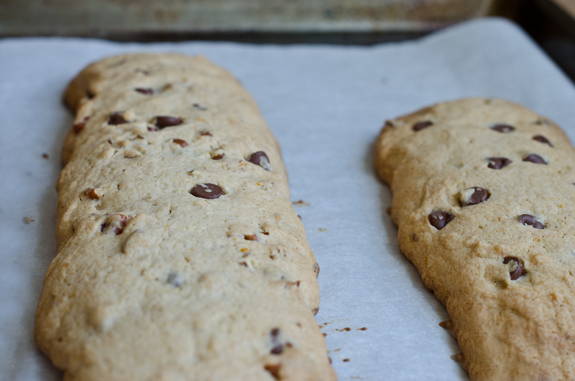 If you've never had mandel bread, it's a traditional Jewish cookie similar to biscotti. Like biscotti, it is twice-baked and crunchy. The main difference is that it's made with more oil or butter than biscotti, so the resulting cookie is a bit richer and softer. You don't need to dip it in coffee or tea to enjoy it — it's delicious all on it's own.
I should note that mandel bread (literally, almond bread) is traditionally made with almonds but my grandma always made hers with chocolate chips and walnuts, so that's how I do it. Also, most recipes you'll encounter are non-dairy and call for oil (including my grandma's), but I use butter because it tastes better.
3 cups

 

all-purpose flour, spooned into measuring cup and leveled-off with back edge of knife

2 teaspoons

 

baking powder

1 teaspoon

 

salt

1 teaspoon

 

cinnamon

1/4 teaspoon

 

ground nutmeg

14 tablespoons

 

unsalted butter, melted (or 3/4 cup plus 2 tablespoons vegetable oil)

1 cup plus 2 tablespoons

 

sugar

3

 

large eggs

2 teaspoons

 

vanilla extract

1/2 teaspoon

 

almond extract

2/3 cup

 

semi-sweet chocolate chips (use up to 1 cup if desired)

3/4 cup

 

walnuts or pecans (optional)

2 tablespoons

 

cinnamon-sugar (combine 2 tablespoons sugar with 3/4 teaspoon cinnamon)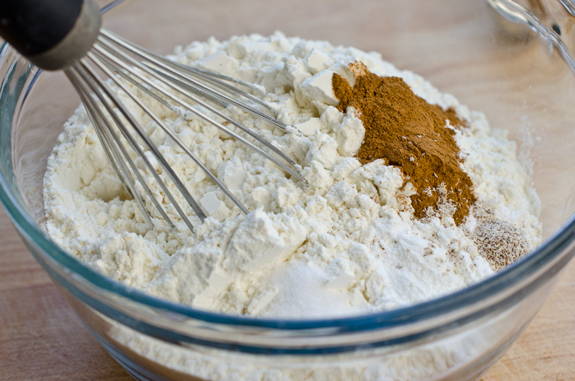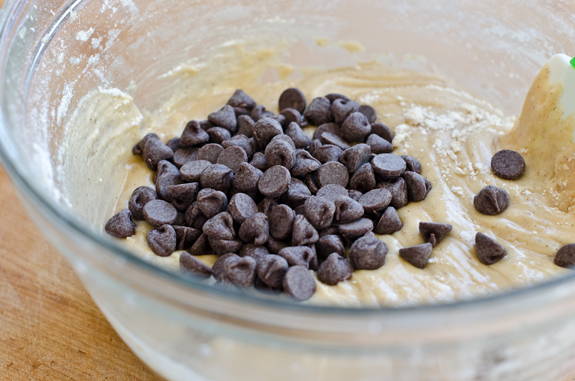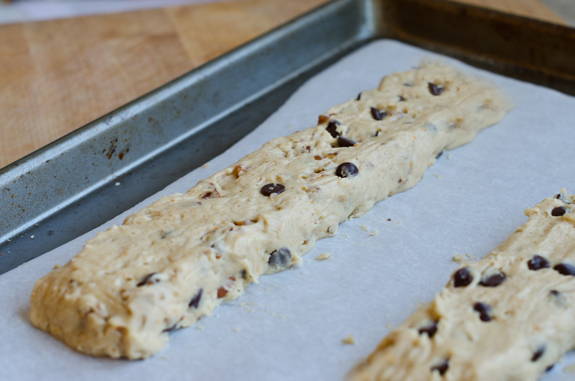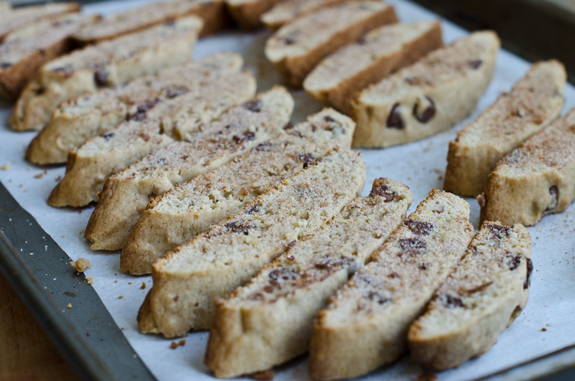 In a medium bowl, whisk together the flour, baking powder, salt, cinnamon and nutmeg.
In the bowl of an electric mixer, combine the melted butter, sugar, eggs, vanilla extract and almond extract. Beat on medium speed until creamy and pale yellow, a few minutes. Add the dry ingredients and mix on low speed until just incorporated, then mix in the chocolate chips and nuts (if using). Cover the bowl with plastic wrap and place in the refrigerator to chill until firm, 1-2 hours (you can speed this up in the freezer if you'd like).
Preheat the oven to 350 degrees and line a baking sheet with parchment paper. Shape the dough into 2 logs about 2 inches wide, making sure they aren't too close together or too close to the edges of the pan. (If it's still sticky, dust your hands with flour.) Bake for 25-30 minutes, or until lightly golden. Remove from the oven and turn the temperature down to 250 degrees. Let the baked logs cool for about 15 minutes, then slice them diagonally about every 3/4-inch. Flip the cookies on their sides (I squeeze them onto one baking sheet but you can use two if necessary), then sprinkle half of the cinnamon-sugar over top. Flip the cookies over and repeat with the remaining cinnamon-sugar. Place the pan back in the oven (be sure you turned temperature down to 250 degrees!) and cook until golden and crisp, about an hour. Let cool, then store in airtight container. (Note: cookies will get crunchier as they cool.)
---
If you cut chocolate chip mandel bread right out of the oven the chocolate will smear.
Easy and delicious. I ve already shared this recipe. Thank you!
- Miami Food Network -
HOW TO FREEZE
Let cookies cool completely. It is best to freeze cookies on a tray so they freeze as individuals and then move to a resealable freezer bag. If this is not practical for you, place cooled cookies in a resealable freezer bag and freeze that way. Cookies will keep for up to 3 months. After that the quality begins to degrade.
When thawing baked cookies, remove from bag and let sit at room temperature. If desired, you can gently reheat thawed cookies to mimic that fresh-baked taste and texture: place them in a 275°F or 140°C oven until soft.