Cauliflower Shawarma Wrap
Cauliflower Shawarma Wrap
A satisfying naan wrap with zesty roasted cauliflower, crunchy pickled onions, and cool & creamy tzatziki sauce.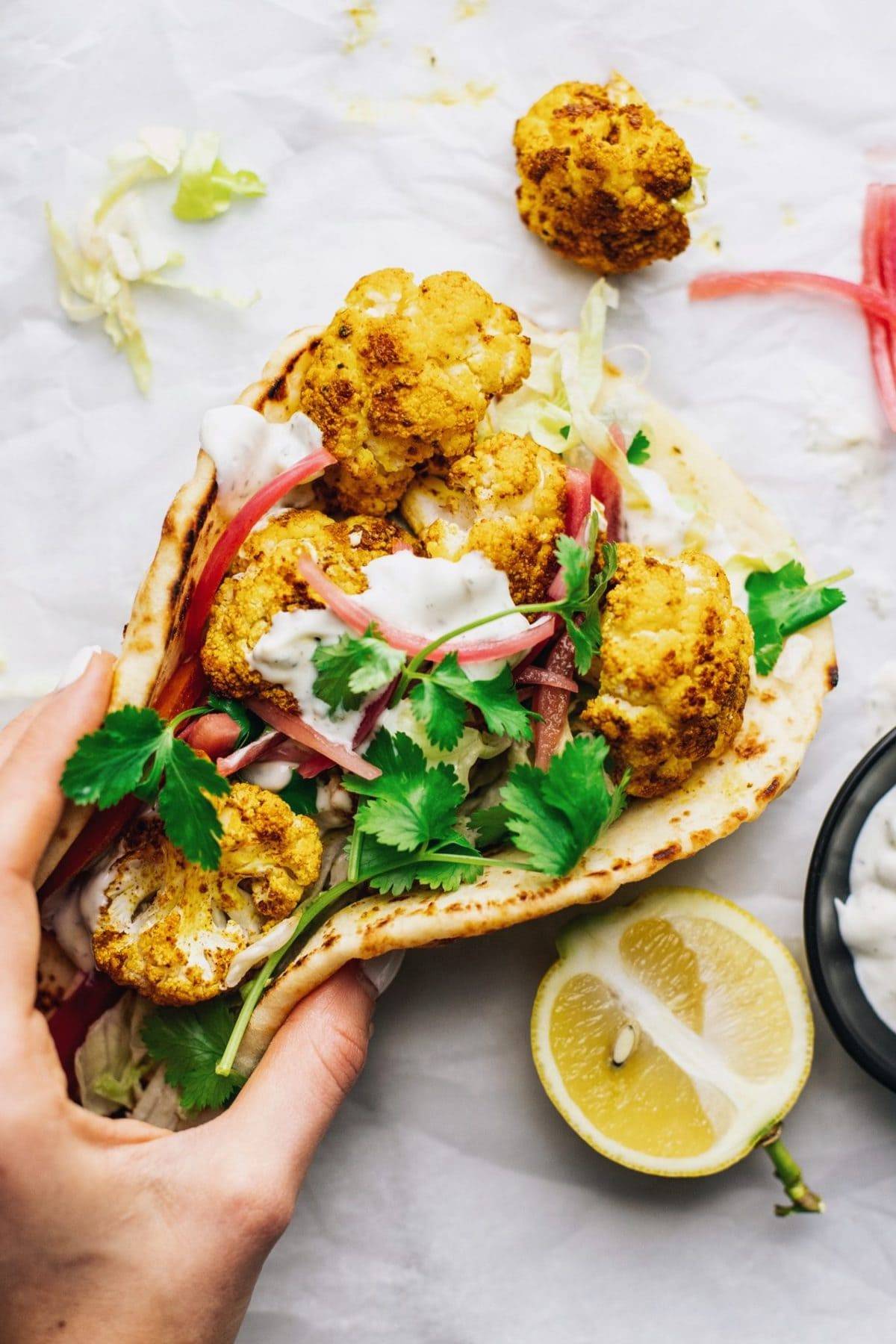 Shawarma is a slow roasted Arabic way of preparing meat. It is a classic street food, and is often served on a plate with sides or sandwiched into a pita and loaded with toppings. Shawarma is pretty popular in middle eastern countries, as well as on the streets of New York. If you've had a shawarma, you know it's delicious, but it is meaty. I swapped the meat for cauliflower….
It's not traditional, but it is delicious.
1

 

cauliflower head

(or 3 cups of cauliflower florets)

2

 

Tablespoons

 

oil

4

 

naan breads
SPICES
1

 

teaspoon

 

cumin

1

 

teaspoon

 

turmeric

1

 

teaspoon

 

paprika

1

 

teaspoon

 

coriander

1/4

 

teaspoon

 cinnamon

1/2

 

teaspoon

 garlic powder

salt & black pepper
TOPPINGS
1

 

tomato, sliced

1

 

red onion

 

(see notes for how to pickle)

1/2

 

cup

 

taztiki sauce

cilantro leaves

chopped lettuce

lemon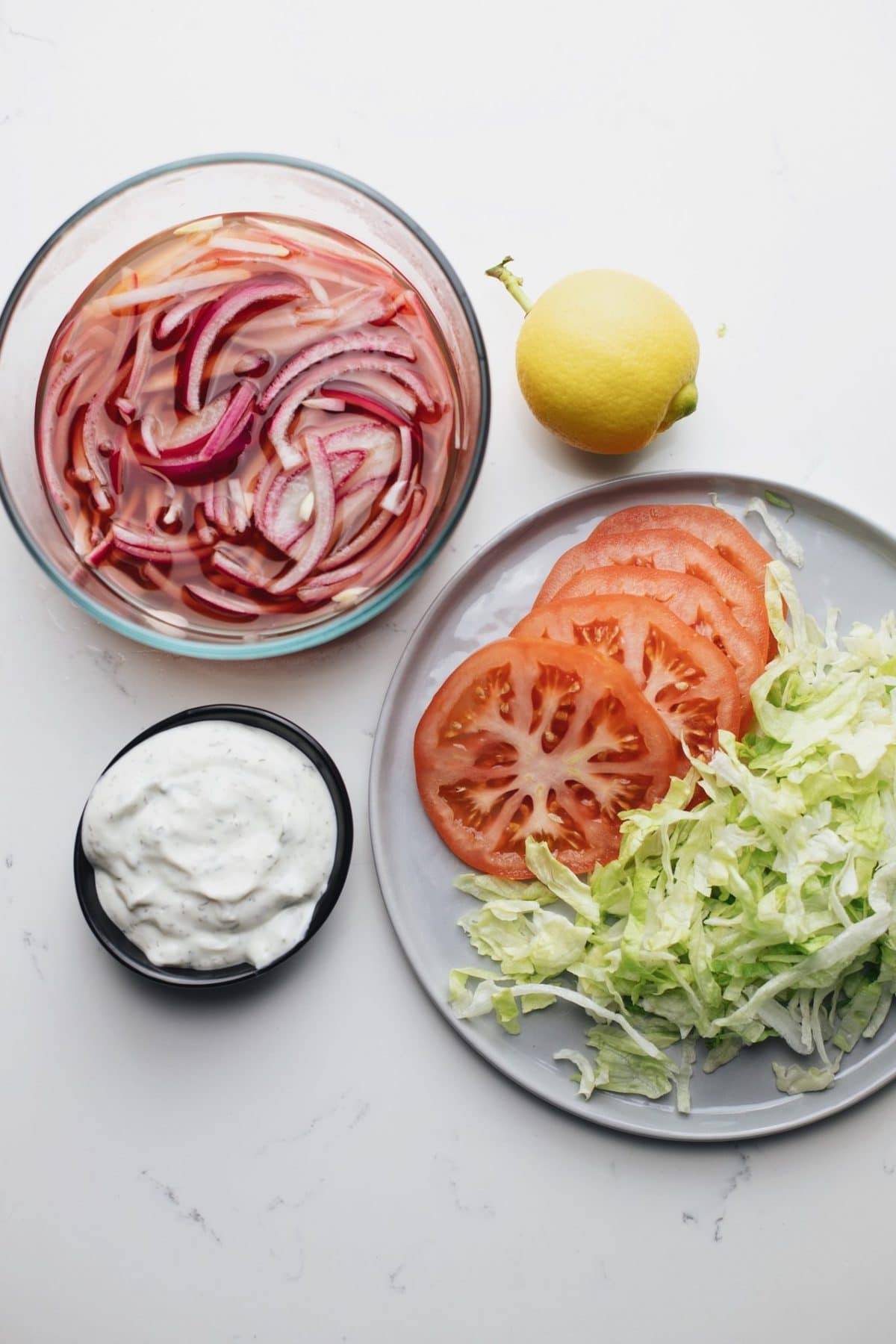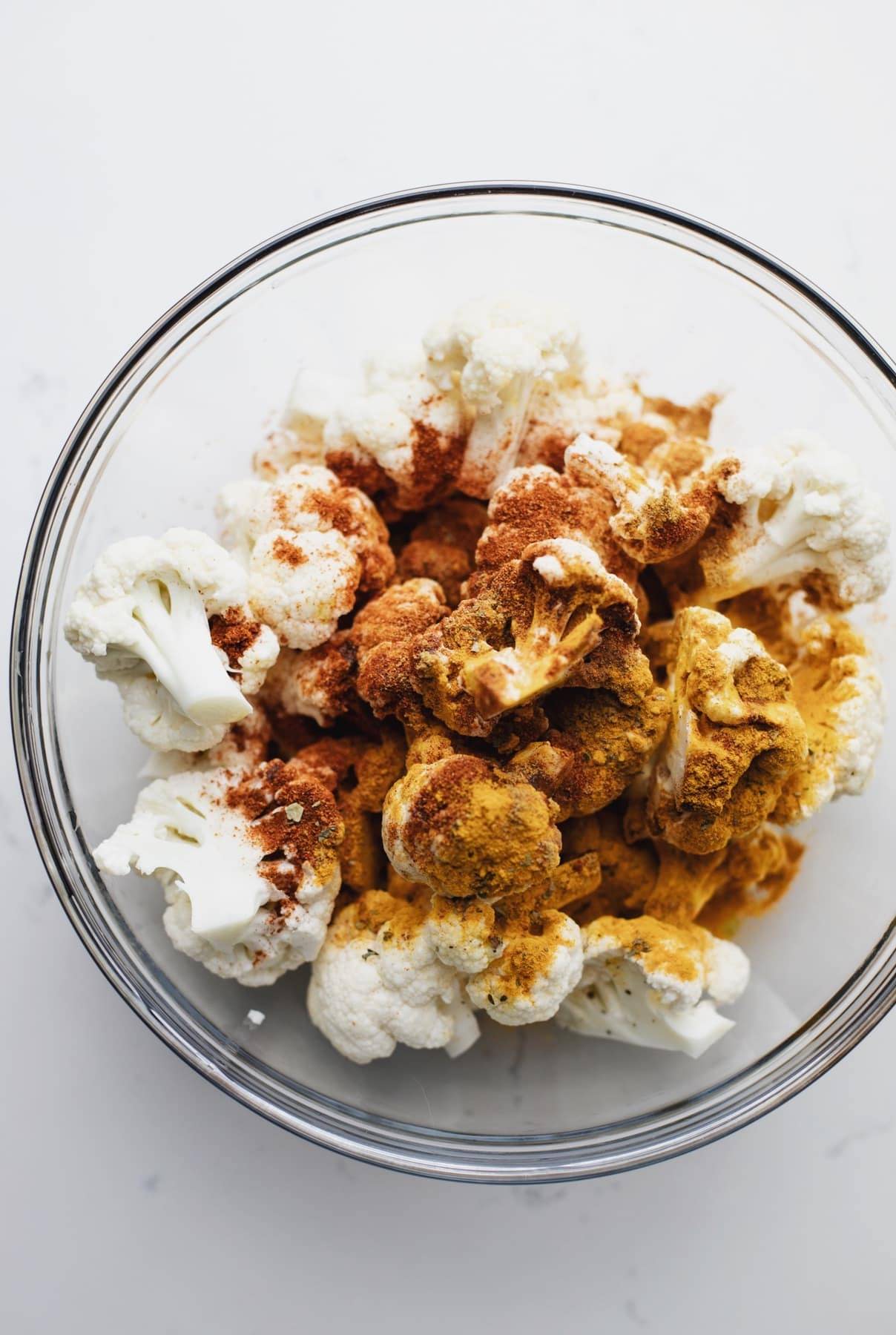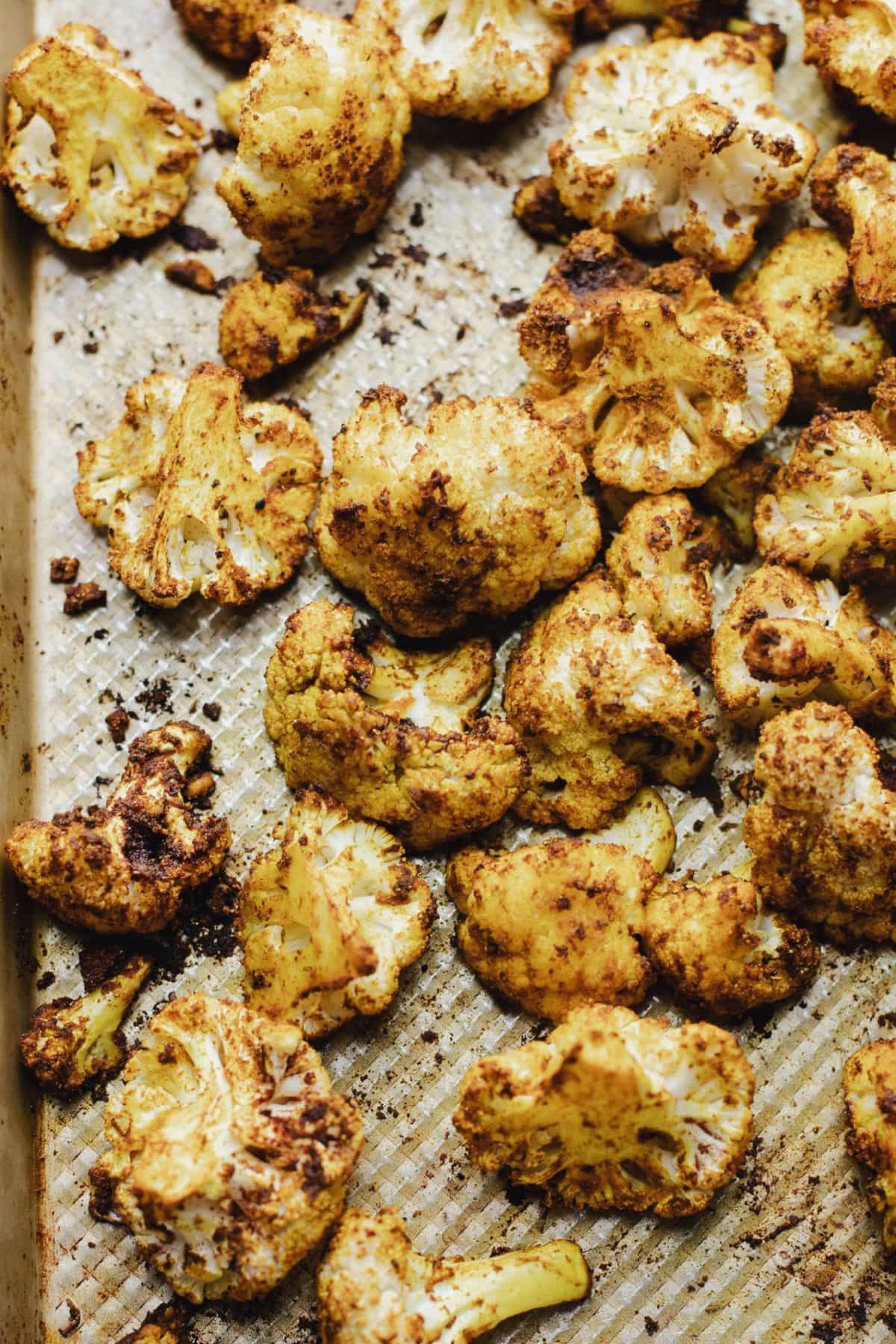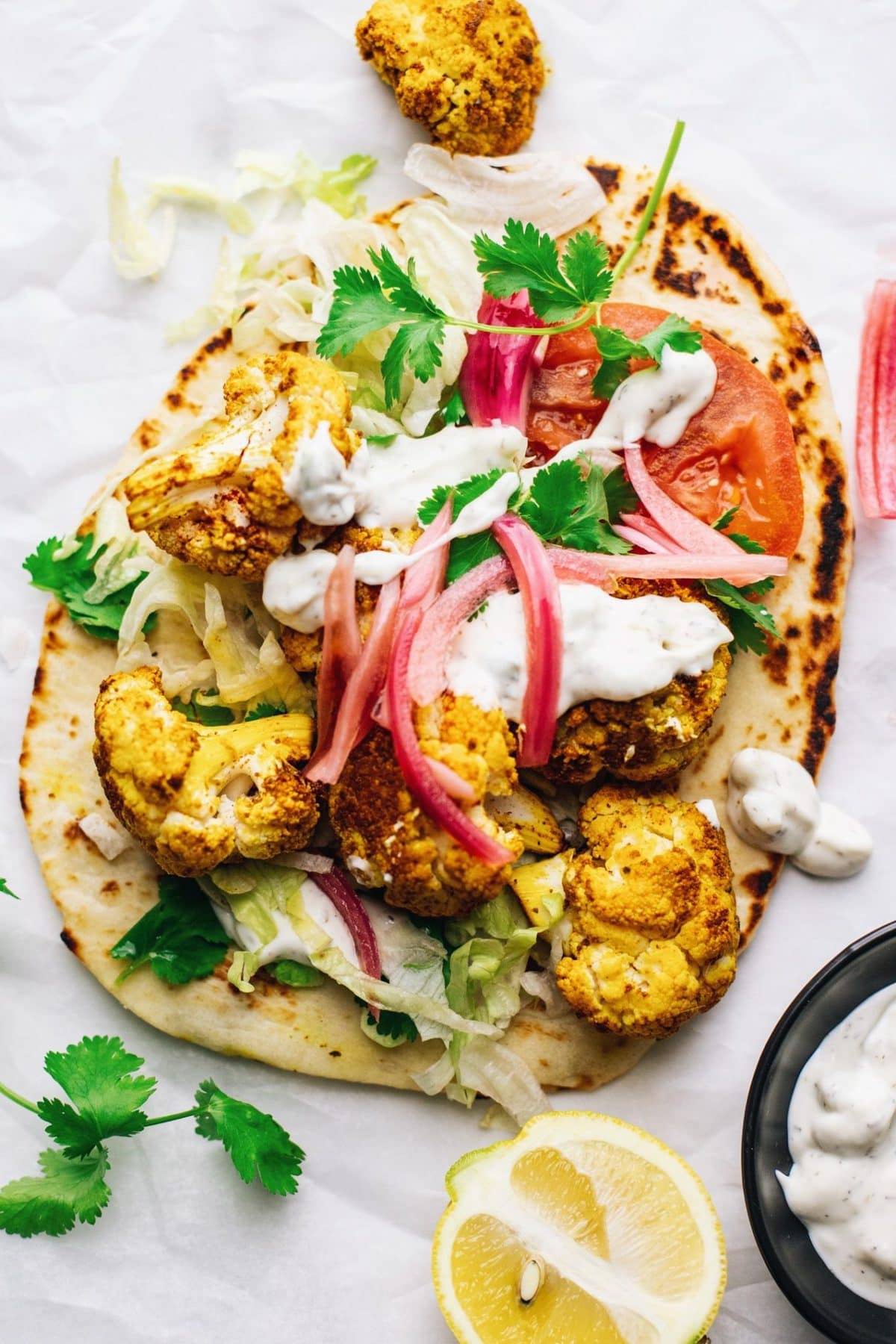 Preheat oven to 400F. Cut cauliflower into small to medium florets.

In a glass bowl toss oil, chopped cauliflower, and all of spices together. Generously season with salt & black pepper – then lay out on a sheet pan and bake for 25-30 minutes (flipping halfway through).

Prep toppings and heat up naan wrap before serving. (see notes for pickle onion instructions)

When cauliflower is finished, assemble naan with tzatziki sauce, tomato, lettuce, cauliflower, pickled onion, cilantro leaves, and a splash of lemon juice. Serve and enjoy!
---
Toppings you can also use: sliced cucumber, thinly sliced carrots, avocado, shredded cabbage, and red peppers or roasted peppers.
Looks delish. Up for new ideas. Thank you
- Miami Food Network -
No cauliflower? Use broccoli instead. Same instructions and cook time as the cauliflower!
I love using naan bread because of how soft and doughy it is but you can also use pita bread instead.
Taztiki sauce is a greek yogurt & dill sauce that can usually be found in your local grocery store near the hummus/dips.