Baked Frittata Recipe - Spinach, Feta and Dill
Baked Frittata Recipe - Spinach, Feta and Dill
A light and creamy baked frittata made with spinach, feta cheese and dill. Perfect for breakfast or lunch.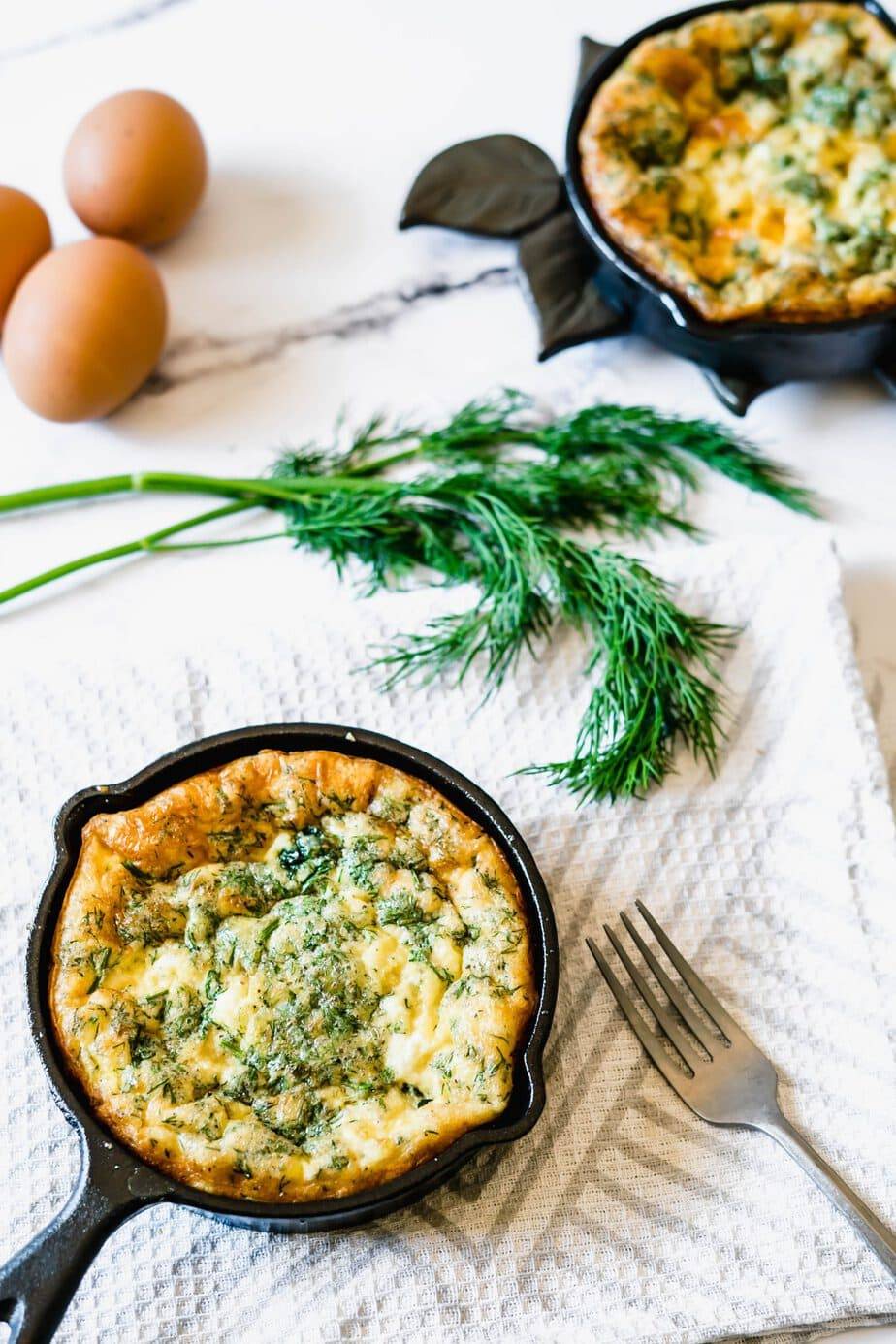 Frittatas are light and fluffy egg pillows with a creamy texture and usually filled with veggies and cheese. They are easy to make and can be made using whatever little tidbits you find in your fridge that you need to use up. This Baked Frittata Recipe is made with Feta, Dill and Spinach.
6

 

large eggs

1

tbsp

fresh dill

 

finely chopped

1/4

 

tsp

black pepper

1/4

 

tsp

 

salt

2

 

tbsp

 

unsalted butter

 

melted

1/3

 

cup

 

milk

1 1/2

 

tsp

 

all purpose flour

3

 

tsp

 

olive oil

 

separated

1/2

 

medium onion

 

diced

4 1/2

 

cups

 

fresh baby spinach or about 4 oz

 

packed

1

 

cup

 

feta cheese

 

crumbled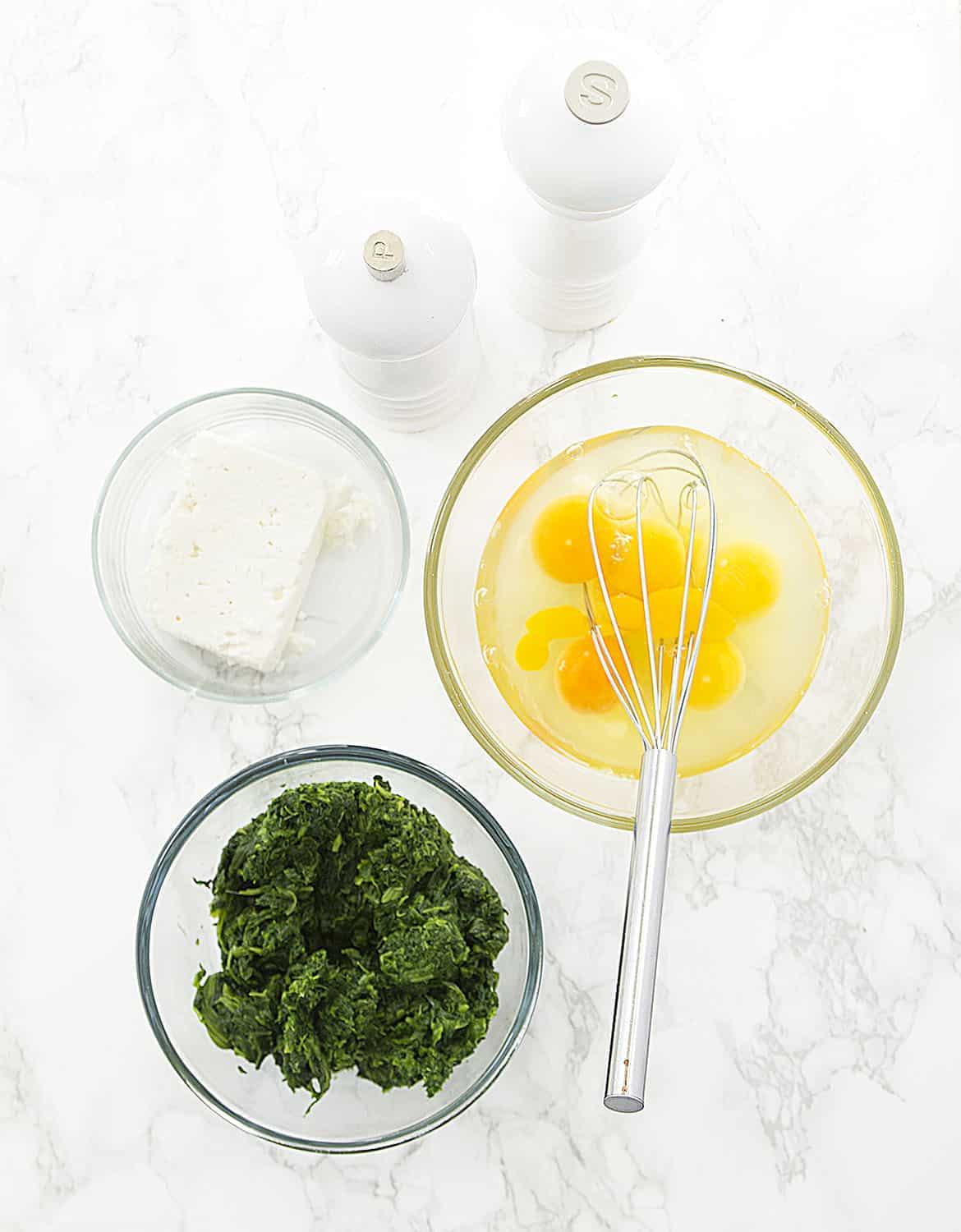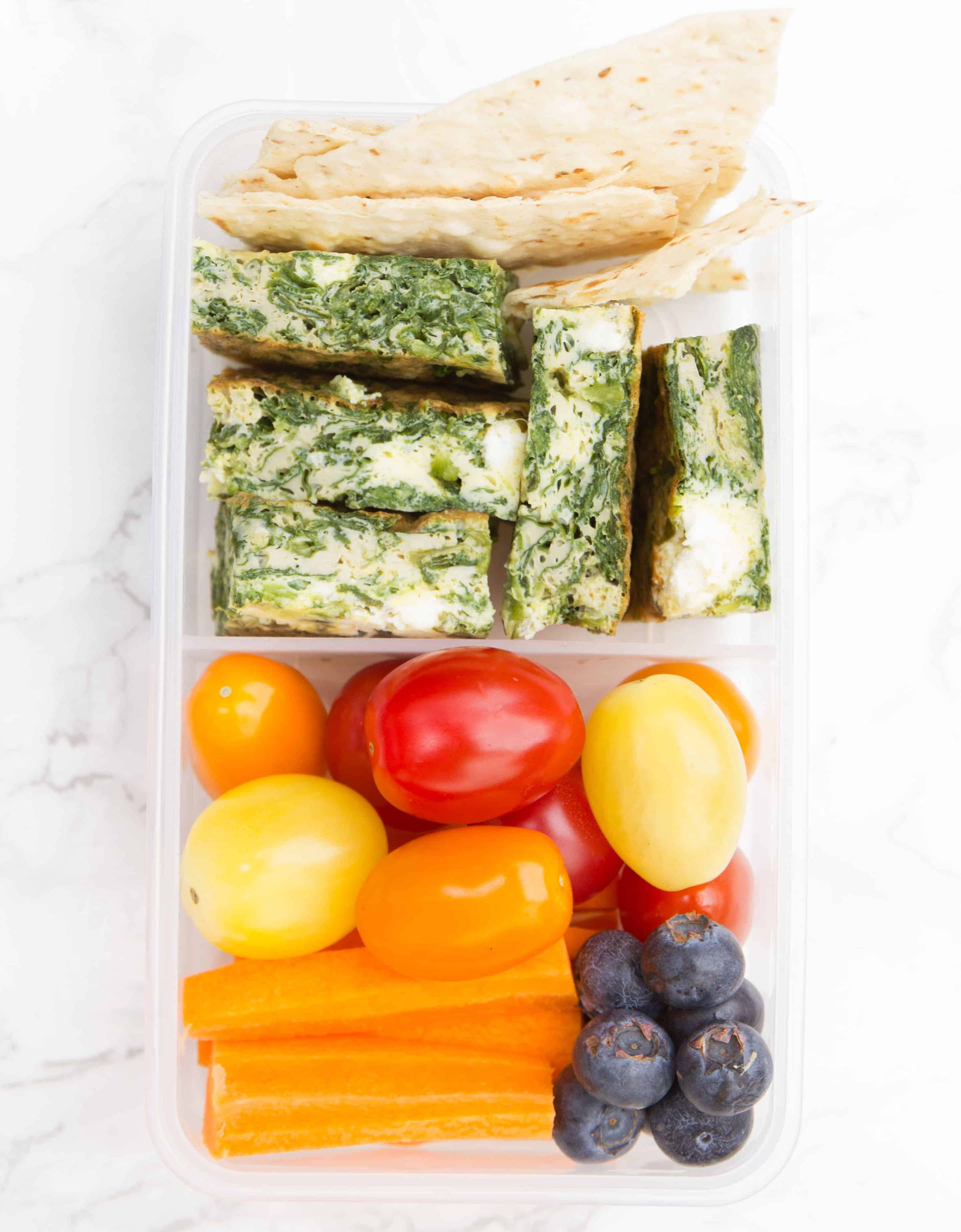 Preheat oven to 400 F

In a medium mixing bowl add 6 eggs, dill, salt and pepper.

In small bowl add melted butter, milk and flour and mix well until all the lumps are out. Alternatively, instead of this butter and milk mixture you can substitute a 1/4 cup of heavy cream.

Add butter and milk mixture to egg mixture and mix well with a wisk to add some air and mix well.

Heat seasoned cast iron skillet on medium heat and add olive oil. When olive oil is heated add onions and sautee until they become softened and translucent. About 3-5 minutes. Add spinach and stir often until spinach becomes wilted. About 3 minutes. Spread spinach and onions evenly over the bottom of the pan.

Add crumbled feta evenly over top of spinach and onion mixture.

Pour egg mixture evenly over top of spinach and feta bottom tilting the pan to ensure egg mixture spread evenly. Continue to cook on stove top until the edges of the egg mixture are set. About 2 minutes.

Move skillet inside oven and continue to bake for 8-10 minutes or until egg mixture in the centre is set. The eggs will fluff up and look like they may explode or boil over but the eggs will deflate when out of the oven and resting. Place a baking sheet underneath if worried. Check if eggs are set in centre by making a small slit in the centre and if the egg mixture runs out leave the frittata in the oven for a few more minutes.

When done remove from the oven and let sit for 5 minutes. Cut into wedges to serve. If using smaller skillets as I have this mixture divides evenly across 3 mini skillets. Follow same instructions but divide oil, feta, spinach and egg mixture evenly between the 3 mini skillets.

Eat right away or refrigerate for up to 5 days in a sealed container. Eat cold or warm up in the microwave.
---
It keeps well in the fridge up to 2 days.
I bet this is an amazing combination. WE are having a brunch this Saturday and I think I found the perfect recipe!
- Miami Food Network -
Easy, light, filling and tasty, tasty, tasty! This baked frittata recipe is a great breakfast lunch or on the go snack that you can make using any veggies or cheese you have right in your fridge.